Things You'll Need
Decent quality but inexpensive red wine or fortified wine such as port

Whole spices, such as cinnamon sticks, cloves and star anise

Fresh herbs, such as rosemary (optional)

Sweet orange, such as satsuma

Lemon

Sugar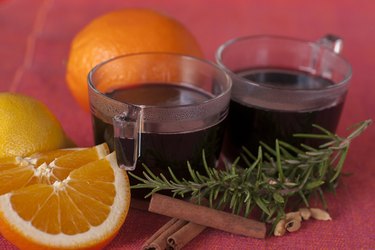 Whether proof of a well-to-do medieval household's wealth or simply a way to stay warm during a Northern European winter, the many variations of mulled wine possess a couple of commonalities: red wine and aromatic ingredients introduced to Northern Europe by the Romans, such as oranges and cloves. With an inexpensive red wine and four or five of your favorite spices, you can recreate the recipe at home.
Step 1
Put half the wine and the whole spices in a heavy-bottomed saucepan. For each bottle of wine, mulled wine typically gets the following spices: 4 or 5 bruised cardamom pods, 1 or 2 cinnamon sticks, a few cloves and 3 or 4 star anise. Additional ingredients you can add to taste include freshly grated nutmeg, allspice berries, bay leaf, vanilla beans and white peppercorns.
Step 2
Add a fresh herb or two, if desired. Fresh, floral and aromatic varieties pair best. Rosemary, for example, adds a pine needle-like aroma redolent of freshly cut Christmas trees and picturesque sleigh rides. Mint and lemon balm play well off of nutmeg and cardamom.
Step 3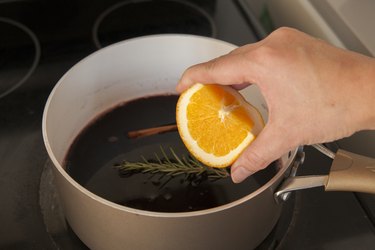 Zest and juice 1 sweet orange for every bottle of wine. Satsuma oranges are sweet, cold-hardy and commonly found in colder months. If you can't find satsumas, use navel, Hamlin or Parson Brown varieties. Add the juice and zest to the wine.
Step 4
Add the zest of 1 lemon to the wine. With its moderate to heavy sweetness, mulled wine needs a fresh, crisp food acid to contrast it, and lemon zest has just enough zip.
Step 5
Add 1/4 cup of sweetener per bottle of wine, such as white sugar, brown sugar or raw sugar. Use half-honey and half-sugar for a touch of honey taste without its cloying sweetness.
Step 6
Simmer the wine until it thickens, stirring occasionally, about 5 to 7 minutes, then take it off the heat.
Step 7
Stir in the rest of the wine. Fortify the wine with a shot or two of sloe gin, apple brandy or hard cider, if desired. Pour the wine through a sieve to strain the spices or ladle it from the saucepan into the mugs.
Tip
Unoaked wines have more acidity and fruitiness than oaked wines and work better for mulling. It's difficult to tell an unoaked red wine by its appearance. They tend to have a darker color, but ask the merchant to make sure.