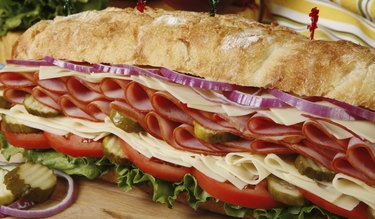 Sandwiches made with a long crusty Italian bread roll and piled high with meat, cheese and vegetables are known as submarines, hoagies and grinders. Each of these delectable concoctions feature similar ingredients, but what they are called, their preparation and toppings will vary depending on what part of the United States you are in.
Hefty Hoagies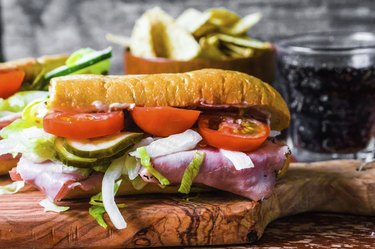 Although the name "hoagie" is often used to describe any type of sub sandwich in the northeastern part of the country, the traditional hoagie features Italian meats such as ham, salami, and prosciutto. The cold cuts are topped with provolone cheese, onions, lettuce and tomato and finished with a drizzle of oil and vinegar. A variation on this classic is the "cheesesteak hoagie," a hybrid sandwich that combines slices of steak and melted cheese with hoagie toppings such as lettuce, tomato and onions. The sandwich originated in Pennsylvania and, according to What's Cooking America; the hoagie was declared the "Official Sandwich of Philadelphia" in 1992.
The Grinder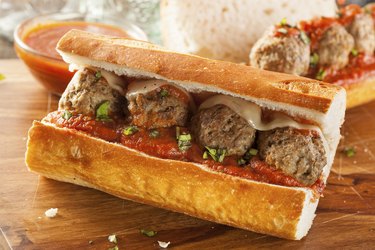 Hailing from New England, these sandwiches were popular with shipyard workers whose jobs were to "grind" down rusty hulls or rivets in ship building, according to "Bon Appétit" magazine. The traditional grinder is similar to the classic hoagie and contains the same central ingredients. The variation is that these sandwiches are often topped with roasted red peppers or adorned with mayonnaise. A hot grinder is made on the same type of roll with ingredients such as meatballs, Italian sausage, red sauce, peppers and melted cheese.