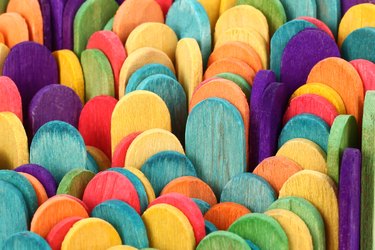 If you have kids, you've surely seen them create masterpieces with nothing more than a few popsicle sticks and a bottle of glue. Popsicle stick flowers, popsicle stick snowflakes, cute summer craft creations... The list continues. But popsicle stick art projects aren't just for kids! They're an environmentally friendly and inexpensive medium for creative adults, too. Whether you're looking for a fun way to reconnect with your younger self or simply exploring less pricey mediums that call for only basic craft supplies, we've got you covered with a roundup of popsicle stick craft projects for adults.
1. Popsicle Stick Bird Feeder
Treat your feathered friends to something special with this DIY popsicle stick craft: A vibrant bird feeder that will dress up any outdoor space. TikToker @justartifacts uses approximately 50 rainbow-colored popsicle sticks and hot glue, along with twine, to craft this cute piece. Your yard will soon be ‌the‌ neighborhood hangout for birds!
2. Popsicle Stick Trellis
Calling all home gardeners! If you've got a green thumb (or if you simply aspire to have a green thumb), this easy popsicle stick craft is calling your name. Take a cue from @nilasivatheesan and connect popsicle sticks to create a DIY plant trellis. Your house plants (or flower garden) will be feeling more supported in no time—and you'll wonder why it took you so long to unearth this simple craft!
There's something sweet and simple about our next craft stick idea: A small, charming handmade frame that's perfect for displaying photos, inspirational phrases and more. TikToker @woolsworthshouse shows us how it's done, using just 15 popsicle sticks, a dash of pale pink paint and hot glue to design an aesthetically pleasing popsicle stick photo frame that looks lovely on a nightstand or shelf. Consider adding stickers, washi tape or even pom poms to elevate this cute craft.
4. Popsicle Stick Furniture
Next up, TikToker @deborahbarreraa uses straight-edged craft sticks (though you could just as easily use popsicle sticks with a few cuts or alterations) to resurface a beautiful dresser. She simply arranges sticks in a geometric pattern using wood glue, adds a stain and seals with a topcoat. The results of this easy craft are eye-catching and beautiful—and it's a great project for those who enjoy revamping furniture on a budget.
5. Popsicle Stick Floating Shelves
TikTok crafter @loopsandlavenderco shows off a colorful popsicle stick craft in the form of DIY floating shelves. Patience is key creating these wall hangings, as you'll need to repeatedly use a hot glue gun to arrange popsicle sticks into a hexagonal shape, then layer until shelves are about three inches thick. Add color with acrylic paint and water, then hang to appreciate your handiwork!
6. Popsicle Stick Date Night Jar
Here's a super simple popsicle stick craft idea that calls for sticks, paint, markers or crayons and a container of your choice. TikToker @whoaittsmindy demonstrates how it's done, writing a series of date night (or day) ideas on popsicle sticks with a color-coded system and adding them to a glass container. When she and her sweetheart are running low on date ideas, they simply pick a stick! Sounds like fun to us.
7. Popsicle Stick Coasters
We're firm believers that you can never have too many coasters—but buying loads of coasters can certainly get pricey. TikTok crafter @24hourlibrary has a money-saving hack: Making easy, adorable palette-style coaster using popsicle sticks! The process couldn't be simpler, calling for nothing more than hot glue and popsicle sticks in various colors. The creator recommends using miniature or jumbo-sized sticks to create coasters in assorted sizes.
Whether you're making something special for a loved one, dressing up your home decor with a fun DIY or getting creative on a rainy day, we encourage you to ‌stick‌ with the process—these fun popsicle stick crafts for kids of all ages (that includes grownups!) are easy to love.