Things You'll Need
Computer

Printer

Letter-size paper

Transparent adhesive tape

Scissors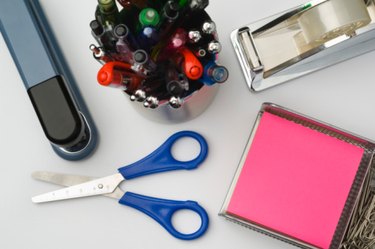 Sometimes during a busy day at work, you need to look up a date on the calendar. An easy way to do this is to have a calendar strip on your keyboard. You can either buy a ready-made strip made of pressure sensitive vinyl with adhesive on the back or make one yourself. With a calendar strip on your keyboard, you will have the dates literally at your fingertips.
Step 1
Go to a craft website such as Craft Meister that has images of calendars to download.
Step 2
Click on the image of the calendar. Download it.
Step 3
Print it out. Cut it to fit on your keyboard in the area in between the screen and the the top edge of the keyboard, just behind the function keys.
Step 4
Stick the calendar to the keyboard with tape; completely cover the strip with tape to protect it from dirt. If there are keys at the top of your keyboard, tape the calendar to the bottom edge of your monitor.
Tip
Laminate the strip if you can before taping it to the keyboard.