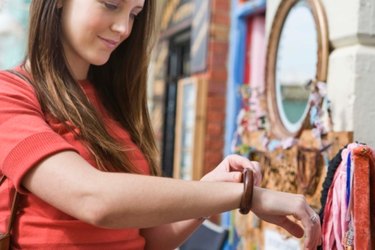 Countless Christian ladies retreats happen all across the country each year at local weekend conferences and destination locations. No matter what the style of the retreat you are planning, ladies will get a kick out of crafting in their downtime. Making a craft allows women to sit and chat while still doing something engaging and also allows them to bring home a gift for a loved one. Christian creative craft ideas should include aspects of femininity and Christ.
Light of The World
A familiar Bible verse states that Christians are "the light of the world" and that light should not be hidden. What better way to inspire ladies to live their faith than with a craft that follows this theme? Simple candlemaking kits are available to purchase, or if you have a woman on your ministry team who has experience in making candles, invite her to teach beginning candlemaking. You can also decorate votive candles with paint, glitter, ribbon and scripture verses for a personalized look each woman will enjoy.
Button Bouquets
A spring time craft that symbolizes spiritual growth, or perhaps how God makes "all things new" in the springtime, button bouquets are a simple and affordable craft idea. On the Christian ladies retreat packing list, request that each woman bring a small bag of buttons. The buttons can be completely random or a woman can shop for specific buttons she would like to use in the bouquet. Using a wooden spool of thread as the "vase" and floral tape, wire, glue and ribbon, each button bouquet will come out looking distinctive while also being small and portable enough to bring home.
Cookie Decorating Table
Bake or purchase cookies in bulk. Sugar cookies work best because of their smooth texture. Set up cookies on several tables and stock each table with cookie decorating supplies, such as frosting tubes, nonpareils and stencils. Invite the women to decorate up to a dozen cookies each and then pack the cookies into clear, plastic cellophane bags. Tie them off with seasonal ribbon and stickers. To provide a Christian focus to the cookie decorating table, encourage women to pipe scripture verses, doves, crosses, angels, etc., onto their cookies, or to decorate some plain tags with inspirational sayings or biblical verses to tie onto the bag.
Gift Card Holder
Gift cards are such a popular option for birthdays and holidays and yet few come in presentable or creative packaging. Using a small crayon box and white paper, you can create a gift card holder appropriate for the teacher or Sunday school leader in your child's life. Simply wrap and glue white paper to a crayon box and then decorate with ribbon, stickers, calligraphy or any other embellishments you can supply. Women will enjoy bringing these home to their kids or other loved ones. The box can be filled with a gift card or small strips of paper containing daily words of encouragement or Bible verses.