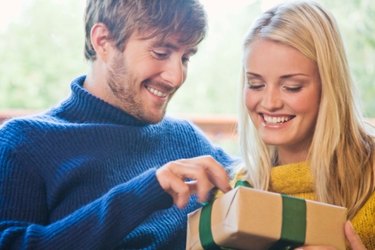 Buying a gift for a man, whether it's a significant other, a father, a brother or a son can be a daunting task. If you know the man's astrological sign, however, his personality can help determine the gifts he will cherish. A Virgo man is defined by his practical nature as well as his attention to detail. These qualities, among others, can guide the gift giver when choosing a present for a Virgo man.
Electronics
Being logical and practical creatures, Virgo men are excited about trying out the newest technology. Whether it be an iPhone, laptop, or GPS navigation system, a Virgo will love to be the first to own it. Any kind of new software or electronics out on the market would make an excellent gift for a Virgo, whatever his age. When in doubt, a gift certificate for an electronics store would also be a good gift for the practical Virgo.
Home Improvement
Fixing things around the house is not just a chore for a Virgo man. He actually enjoys handiwork and home improvement, which appeal to his meticulous nature. For this reason, any type of tool, whether it be a tape measure, a wrench or a whole toolbox, will make his eyes light up. Just don't be annoyed when he spends hours working on the sink or taking everything in the house apart to see how it works.
Organization
One thing that everyone must know about a Virgo man is that he is very neat and does not easily tolerate a messy or disorganized home or office space. He is a bit of a perfectionist and prefers everything to be in its place. This means that gifts such as an office organizer, shoe stand or bookshelf will not be considered boring to a Virgo man. On the contrary, he will cherish the opportunity to bring more organization into his life.
Health
Due to their perfectionist and meticulous natures, Virgos tend to be very health conscious. Most Virgos prefer to eat healthy foods and exercise on a regular basis so that they can keep themselves looking fit. Gifts that would suit this aspect of a Virgo man's nature include a treadmill, weights or even a gym membership at a local gym. He would also enjoy a dinner at a nice restaurant, as long as there is healthy food on the menu.