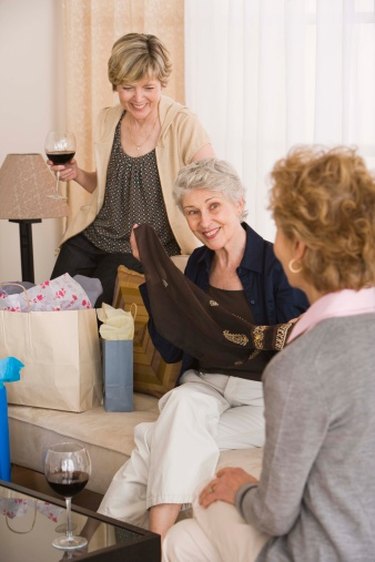 A 62nd birthday can be easily overlooked as it isn't recognised as a particular milestone, but with a little research and a lot of thought you can make it a day to remember for the birthday boy or girl. Basing the day around a theme or period that is dear to the heart of the person celebrating the birthday is a great way to make sure they appreciate your birthday decorations.
Make a Collage
Gather images of the birthday boy's or girl's favorite things from when they were young. If you're not overly confident about getting it right then ask their friends and family and before you know it you'll have a list of musicians, actors, cars and places and you can easily find the images you need on the Internet. You'll be able to roll the theme out across banners, cards and even the invitations, which will have the celebrant smiling with nostalgia.
Go Old School
Raid the photo albums. If the birthday boy has been on the planet for 62 years then get as many photographs as possible to work into your design. Its easy to design a banner showing their changing face as they grow up into the person you've all gathered together to celebrate. In the middle of each table you can have a little scrap book with pictures and spaces for the guests to write their comments. At the end of the night you can give them all to the birthday boy as an added present.
He/She Said What?
Ask friends and family for their favorite quotes from the guest of honour. Banners, balloons and napkins can be filled with their pearls of wisdom and when they arrive they'll get to laugh and cringe at the things they have said over the years. Mixing up the fonts and colors is a good way to make the designs eye-catching and fun. Encourage the guests to wear T-shirts with quotes on them. These can easily be ordered on line.
Take a Trip Down Memory Lane
Make everything look like it's from their childhood. Use the brands and the iconography of the 50s to make their party memorable. Birthday banners, balloons, napkins and posters can be designed to look like brand name items, using the same fonts, but expressing your particular sentiments.