Chicken wings: they'll always have a home on the family room coffee table between a competitive game and its cheering fans. Still, with a few tweaks to the accompanying sides, wings can transcend their sporting event boundaries and make it onto your dinner table any night of the week. So, ditch the popcorn, pretzels and chips the next time you're craving this dish. We've got everything you need to mix and match sides that go great with chicken wings so you can turn everyone's favorite game day appetizer into your trademark home-cooked meal.
Add Summer's Favorite Side
There's a reason why wings are usually served with carrots, celery, and ranch or blue cheese dipping sauce: it just seems to work. This coleslaw is simply a more flavorful and well-rounded alternative that will complement the savoriness of the wings.
Make a Melt-In-Your-Mouth Baked Potato
A baked potato, when cooked right, has delicately crispy skin and a melt-in-your-mouth inside that makes it a perfect partner to your ultra-flavorful chicken wings. It's such a good combo that all you'll need for a topping is tasty butter.
...Or Just Make Every Side Dish Melt in Your Mouth
Is there anything butter can't improve? Take your butter game up a notch by making a variety of your own compound butters. Try the recipe for blue cheese chive butter on your baked potato, make a garlic herb butter to spread on your roasted veggies or try a sea salt honey butter on your cornbread (basically, there's a butter for every wings side dish).
Make Cornbread in a Skillet
We couldn't mention sea salt honey butter and cornbread without giving you a delicious cornbread recipe. While cornbread might not be the most common wings pairing, this honey beer skillet cornbread has just the right amount of sweetness to delightfully contrast with buffalo chicken. Plus, making it in a skillet gives the crust a golden crisp that might make it your bread of choice.
Dig Deep to Satisfy Healthy Cravings
If you've run out of ideas for veggie sides, chances are you've forgotten about hearty root vegetables. They last longer than veggies that grow above the ground, and when you combine a few of them, you can create a delicious medley of oven-roasted root vegetables. They provide a healthy addition to your wings meal while keeping the correct complementary flavors: subtly sweet and seasoned.
Make Brussels Sprouts You'll Actually Eat
If you're digging the roasted veggie side to your wings meal but you're ready to mix it up, try making roasted Brussels sprouts. Before you let the Brussels-sprouts-hate flow, consider this: they can develop a strong sulfur odor and taste if they are overcooked. When they're cooked right, all crispy outer layers are caramelized and the brussels-sprouts-hate evaporates like it never existed.
Add a Perfectly Textured Grain
A side dish like rice goes perfectly with chicken, so why not bump it up to a superfood grain like quinoa and pair it with your chicken wings? Learn how to cook quinoa right to get its optimal texture so it can soak up all that extra buffalo sauce just like it was born to do.
Enjoy Summer's Other Favorite Side, Even If You Don't Have a Grill
Everybody loves a juicy grilled corn on the cob in the summertime. No grill? No worries. Make juicy corn on the cob in the oven to go with your chicken wings for a classic summer meal.
Try a Hearty Pasta Salad
Need a hearty side dish that measures up to a mountain of wings? This flavorful pasta salad makes for a colorful and refreshing starter that complements the heartier flavors in your wings and sides. Plus, a few scoops are all you need to feel full.
Get That Smokey Asparagus Crisp
Asparagus is a wonderful spring and summer vegetable, especially when you know how to grill asparagus to give it a delicately smokey finish. It may be unexpected, but the charred flavor will be similar to that of the wings.
Cook Green Beans to Soften the Wings' Spice
For an even cleaner way to enjoy your wings, try making green beans as a healthy and simple side. Fresh green beans will work similarly to the carrots and celery often served with wings, cleansing your palette between spicy-savory bites and providing that burst of freshness you'll be craving.
Nothing Goes Better With Wings Than Fries
While it's important to have options to make your wings meal varied, the fact of the matter remains: fries and wings were meant to be together. For a healthier alternative, try making crispy oven-baked fries — they're so good, you'll forget they aren't fried.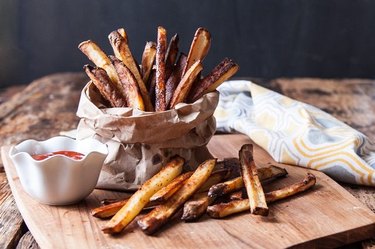 ...Except Maybe Sweet Potato Fries
Oh, yeah. So maybe sweet potato fries were meant to be eaten with wings, too. Learn how to grill sweet potatoes to give your chicken wings their favorite side dish with a twist.
Round Out the Meal With a Classic Waldorf Salad
For a full-on hearty but healthy meal, make a Waldorf salad. This creamy and refreshing dressing gives your taste buds a break from the spice while rounding out the flavors of the buffalo wings. And now that you have this and so many other sides to choose from, you may have wings for every meal!