A picnic in the park is a beloved summer activity, and coleslaw is a classic addition to the scene — especially one as crisp, savory and sweet as this recipe. You can use it as a topping for a juicy pulled pork sandwich, or you can let it stand on its own alongside barbecued and grilled veggies. Either way, this zesty coleslaw will add a satisfying crunch to your al fresco meal, and it's as easy as a walk in the park to make.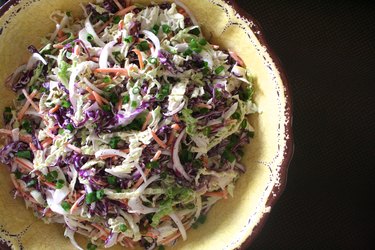 Things You'll Need
1/2 head red cabbage, thinly sliced

1/2 head green cabbage, thinly sliced

2 cups shredded carrots

1/2 sweet yellow onion, very thinly sliced

1 cup mayonnaise

1/4 cup apple cider vinegar

1/8 cup honey

1 teaspoon Dijon mustard

1 teaspoon salt

1/2 teaspoon black ground pepper

1 teaspoon celery salt

1/2 teaspoon mustard seed

Sliced green onions, for garnish (just the dark green parts)
Step 1: Slice the Cabbage and Onion
Thinly slice the cabbage, red cabbage and sweet onion. Set aside.
Step 2: Mix the Cabbage, Onion and Carrots Together
In a large bowl, mix together the sliced cabbage, onions and carrots.
Step 3: Make the Dressing
In a medium bowl, whisk together the mayonnaise, apple cider vinegar, honey, Dijon mustard, celery salt, mustard seed, salt and pepper. Mix until smooth.
Step 4: Dress the Coleslaw
Gradually add the dressing to the large bowl with the cabbage, onion and carrots. Mix together after each addition, until all of the coleslaw is coated. Serve at room temperature or chill in the refrigerator for 1 to 2 hours. Now, it's time to go on a picnic!