Sweet potato fries are a healthy alternative to regular French fries, which makes them a perfect option for serving next to grilled classics such as hamburgers and hot dogs (and even veggie burgers, for those who avoid meat). They're easy to prepare, and the grill adds a nice char and smokiness that you don't get with other cooking methods.
Things You'll Need
Sweet potatoes, preferably medium-sized (one per person)


Oil for grilling (olive oil is a good option)

Kosher salt and ground black pepper

Chef's knife

Cutting board

Heat-resistant tongs

Optional for serving: homemade aioli
Step 1: Gather Your Ingredients and Tools
Preheat a gas grill on high heat for 10 to 15 minutes.
Any type of sweet potato will work, but if you're planning on cutting them into a wedge shape (described in step 2), it's best to use medium-sized sweet potatoes that aren't too abnormally shaped. A typical serving size to keep in mind while gathering ingredients is one medium-sized sweet potato per person.
Step 2: Cut the Sweet Potatoes Into Rounds or Wedges
Sweet potatoes do not need to be peeled for grilling, though they should be rinsed and patted dry first. There are two options for cutting: rounds or wedges. It's a personal preference. Keep in mind that the thicker the cut, the longer it will take for the sweet potatoes to cook through.
Step 3: Coat With Oil, Salt and Pepper
Regardless of which cut you choose, you will want to liberally coat the sweet potatoes with oil to keep them from sticking to the grates.
Step 4: Grill and Serve
Grill the sweet potatoes, using heat-resistant tongs to turn them over halfway through the cooking process. Depending on the thickness of cut, this can take anywhere from 4 to 6 minutes per side. It's best to test one for doneness before removing the rest.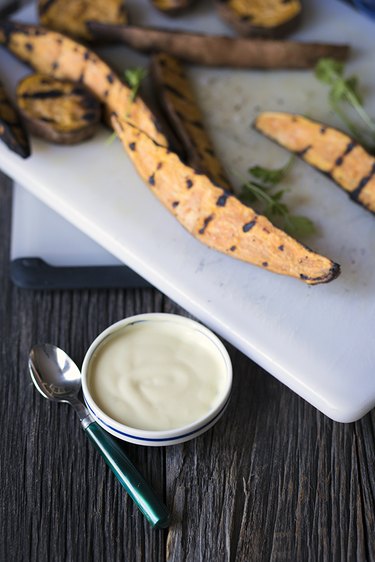 Grilled sweet potatoes are wonderful on their own, but they also pair wonderfully with homemade aioli!