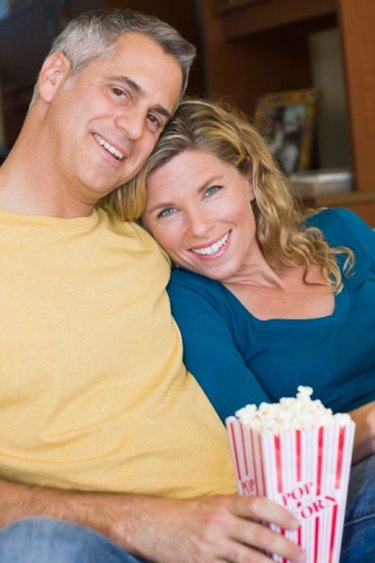 It can be difficult purchasing things for a movie gift basket, especially when you know little about the study of cinema. Some movie lovers like top quality films that have artistic merit. Some people might just be happy to have a date night with you watching any movie.
DVDs and Blu-Rays
DVDs and Blu-rays are a thoughtful gift for the movie collector. Some movies come in a DVD/Blu-ray combo pack, which works for the present and future if the person has only a DVD player. Blu-ray movies are thoughtful because they help the person begin their collection for the newest technology. New release movies, such as "Avatar" and "Salt," as well as classics, such as "Back to the Future" and "Butch Cassidy and the Sundance Kid," make good gifts.
Snacks
Some of the recipient's favorite snacks can help make movie night enjoyable. Popcorn is a traditional snack for movie watching. Add a couple of boxes of candy, including something chocolate and something tart, as well as something salty, such as pretzels. A bag of chips and some chocolate-covered caramels also would work. Just double-check that the recipient has no food allergies.
Blanket
A blanket is appropriate for a movie gift basket so you can cuddle up together watching a film. Inexpensive fuzzy throws are fine if you are splurging on the movies and need to save on the blanket. Some blankets make beautiful accents to the recipient's apartment. For instance, get a quality cashmere blanket if you can splurge. Cashmere can be expensive but it feels very soft. On the other hand, chenille blankets are affordable and top quality.
Movie Tickets
Include a couple of movie tickets in the gift basket so the two of you can have a night out at the cinema. Buy tickets to a top-rated new blockbuster film. Alternatively, get tickets to a quality independent movie. This gift goes well with an international movie poster for the recipient's room. Or get the recipient tickets to a local film festival. Some festivals bring in celebrities as well as bands so the event should be entertaining.