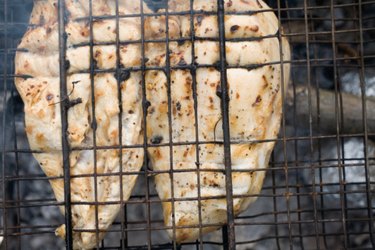 The white meat of a chicken breast chicken contains less fat than the darker portions of leg and thigh. When the skin is removed, a chicken breast has even less fat. Health-conscious cooks choose skinless chicken breasts because of these reasons and because many people simply prefer the taste of the white meat. Several types of side dishes go well with skinless chicken breasts.
Rice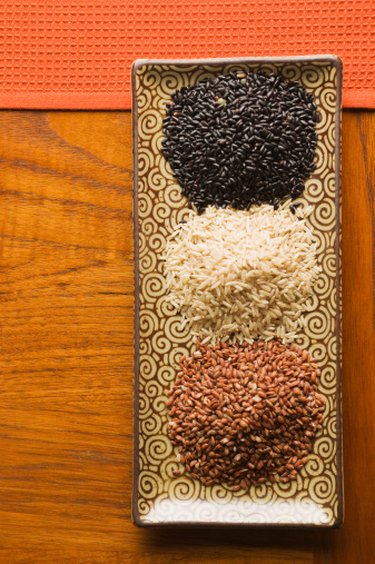 Rice is a natural accompaniment for chicken breasts. Plain white rice is often chosen, but there are many ways to dress up a rice dish. One basic technique is to cook the rice in a flavorful broth. Adding thyme along with onion and garlic gives personality to plain rice. Fried rice works well with teriyaki-flavored chicken. Adding saffron, or the less expensive turmeric, gives rice an appetizing yellow hue; mixing it with onion and crispy baby peas works with baked chicken breast. Any number of specialty rices, such as jasmine, basmati or pecan rice, enhance a meal that features chicken breasts.
Potato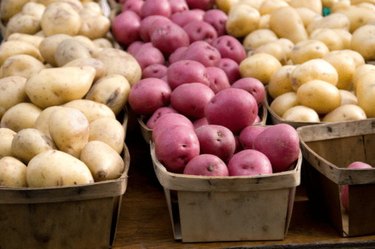 As an accompaniment to grilled or baked skinless chicken breasts, cold potato salads add a creamy, rich flavor to the meal. Potato salad comes in several varieties, offering choices for those with taste preferences. Baked potatoes served with butter or sour cream give the diner control over the amount of fats added to the potato. Loaded potatoes also work well with chicken breast, with added cheese, bacon and green onion sprinkled atop. Scalloped potatoes cooked in a cream sauce or au gratin potatoes served in a cheese sauce add comfort food to the menu, and can be fancied up with broccoli bits, peas or onion.
Pasta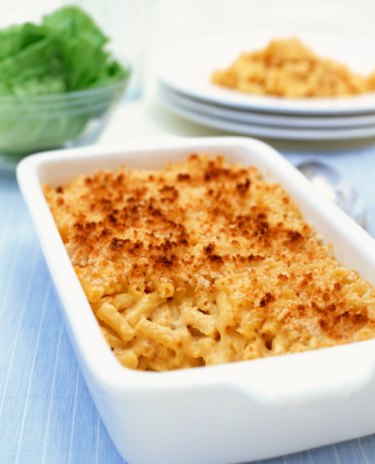 Cold pasta salads complement chicken breasts with their creamy, pickle flavors. Add chopped boiled egg plus colorful pimiento and sweet peppers for visual appeal. Macaroni and cheese adds a home-style touch and appeals to kids and grownups alike. If the chicken breast is breaded, it can be served over spaghetti with a flavorful tomato sauce and a little mozzarella or provolone melted on the chicken. Include a generous helping of Parmesan cheese over all. Couscous, a finely grained type of pasta takes on the flavors matched with it. Broth, plus herbs and spices, gives it whatever flavor you prefer. Orzo is another type of pasta with a shape similar to rice, and it goes well with skinless chicken breast.
Vegetable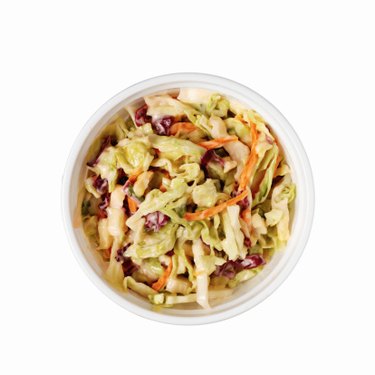 The sky is the limit with vegetable side dishes for chicken breasts. Cold vegetable dishes include cole slaw, tossed salad or a broccoli salad that is made with bacon, onion and sesame seeds. A simple salad of red onion, bell peppers and cucumbers, dressed with a tangy Italian dressing, brightens up a meal with chicken breasts, as does a sweet carrot salad with raisins and apples bound with a mayonnaise dressing. Vegetable casseroles served hot include traditional dishes such as green bean casserole or a corn casserole made with corn, sour cream and corn muffin mix. Other possibilities include vegetables in a cream sauce or a cheese sauce. Baby peas and asparagus combine well in a cream sauce, while broccoli and cauliflower find favor in a cheese sauce.