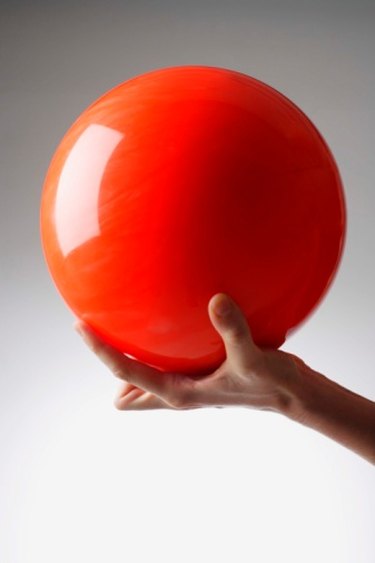 Before trading in your old bowling ball or tossing it in the attic, consider turning it into a decorative yard ornament or holiday item. Friends and neighbors will soon be asking for one of their own.
Garden Critters
Fun ladybugs can be created with old bowling balls and set out in the lawn or garden for everyone to admire. Completely cover a bowling ball with red exterior latex paint. When the desired coverage is reached and the ball is dry set the ball on a work surface with the holes pointing towards you. Paint a line down the middle of the ball making both ends of the line thicker than in the middle. Paint at least three black circles on each side of the line. Allow the paint to dry. Fill the thumb hole with black caulk and push two pieces of copper wire into the caulk. Allow the caulk to dry for at least 24 hours. If desired, two wooden beads can be painted black and attached to the end of the copper wires.
Mosaic Lawn Ornaments
Mosaic bowling balls can sit in pots or stands and be placed on a front porch, deck or garden area. Start with a clean bowling ball. Cover a small area with a glue or silicon that can withstand outdoor weather. Use flat-sided gems, polished river rock or glass pieces to cover the bowling ball. Continue to apply glue to small areas with glue and cover with the gems until the entire ball is covered. Allow the glue to dry. Cover the ball with a waterproof grout according to the package instructions.
Garden Markers
Bowling ball garden markers are a great way to reuse unwanted bowling balls. Paint the bowling balls with exterior latex paint and allow them to dry. Cut two 10-inch pieces of copper wire per bowling ball and curl one end of each wire twice to create a circle. Fill all of the bowling ball holes with outdoor caulk that can be painted. Push one piece of copper wire into the two finger holes on the bowling ball so that the curled ends are facing up. Prop the wires up if necessary until the caulk is dry. Place the bowling balls at the end of each row in a garden and put the seed package between the copper wire circles as a reminder of what has been planted.
Festive Pumpkins
For pumpkins that will never need to be thrown out, paint bowling balls with orange exterior latex paint. Allow the bowling balls to dry between coats and apply enough paint to completely cover. Hot glue silk grape leaves over the holes. With a fine paint brush and black exterior paint, paint light lines from the top to the bottom approximately every three inches.