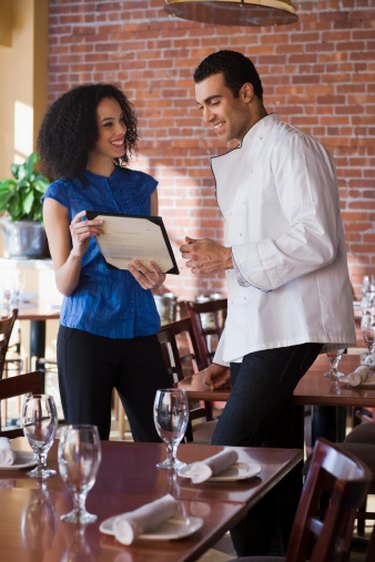 Brick is used as a primary element of exterior home design for its practicality and durability. Its use in interiors may be for these reasons or for its specific style and charm. Whether you are looking to complement the red brick exterior of your house or decorate a room with an exposed brick wall or fireplace, your color choices will play a large role in the outcome of your project. Learn which colors look best with the distinct red-brown hue of brick and the looks you can achieve with them.
Subtle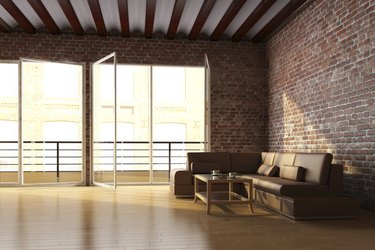 Natural complements to red brick include pale shades of yellow, peach-pink colors and orange-red hues. Paired with soft accents, these calming colors will create a melodious space with your brick feature contributing a rustic element. White and cream are also natural complements, though their neutrality offers less to this effect. For slightly more contrast, consider scarlet, soft blue or cool green. All three complement red brick without heightening its drama -- although they create dimension in shade and color.
Traditional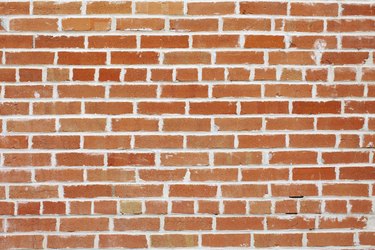 Decorating with warm colors such as reds, oranges and browns suits red brick quite well. Navy, a rich but conventional contrast, is an ideal partner to an interior red brick wall with white grout. Peter McNeel of the "American Chronicle" calls it a "sure bet" and suggests that navy accents such as throw rugs and drapes be used all through the room. Tan also works well with brick, particularly a red brick with tan grout, as do whites and off-whites which leave the brick as the primary feature in a room.
Elegant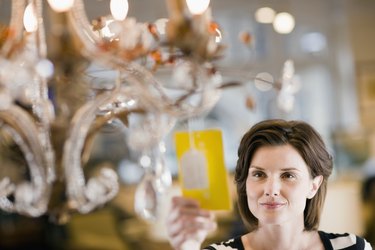 For a brick exterior, a classic and elegant look can be achieved with a combination of opposing neutrals and metal -- paint a door black with white trim and brass accents, for example. This can be easily translated to an indoor space with exposed brick. Brick tends to have a hint of black or white, which makes paired black and white an obvious complement, and the combination of the two is eternally eye-catching. Metals can be introduced with wall décor hung directly on the brick. Further the chic look by including plush furniture and sophisticated accents, such as a chandelier.
Contemporary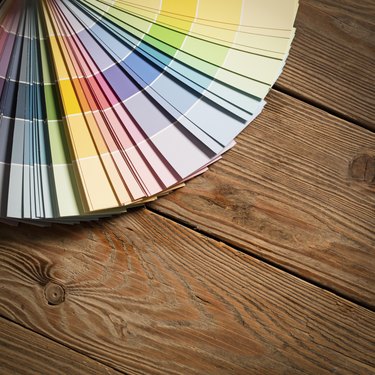 Contemporary decorating is partly characterized by bold color choices. In the home, an exposed red brick wall can be paired with teals or blues -- these complementary colors will provide contrast against the brick. To accentuate gray-grouted brick in a modern way, paint surrounding walls in a similar shade of gray. Brick exteriors can be made contemporary with a bold door color like dark purple, offset with a door trim in a lighter color matching the grout. Always use paint chips or samples, experimenting with wild colors can be fun, but it is also tricky.