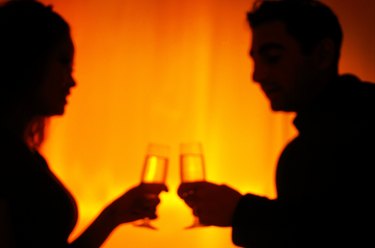 When you start your countdown to midnight on New Year's Eve, there's no reason you have to be out partying with strangers at an overly expensive and crowded event. Instead, stay inside and have a romantic evening with your significant other, complete with a romantic meal and ambiance and activities that solidify your relationship.
Set the Atmosphere
Your home is littered with piles of bills, messes and dirty shoes; it might not scream "romance," but that's easy to change. During the day, spend a couple of hours tidying things up or call in a cleaning service to scrub things down. Then, decorate by lighting candles and a fire and buying bouquets of red roses, stephanotises and Star of Bethlehem, which symbolize love, good luck and hope, respectively. Turn off the cellphones and tablets for a night of focusing on each other; you can leave the TV on, but only if it's tuned to a romantic movie or a New Year's Eve countdown.
Relationship Resolutions
Spend the evening reflecting on the past year of your relationship and sharing your hopes for the new year. Take turns sharing some of your favorite memories involving the two of you, and then write down what you hope next year holds. You can also write down resolutions of what you plan to do to inspire more romance in your relationship. Seal these notes away in an envelope to look at next New Year's Eve.
Before the Ball Drops
Before you start your own countdown, enjoy an evening of dancing to music by candlelight or watching a favorite movie that's appropriate for the celebration. Romantic movies that feature memorable New Year's Eve scenes include "When Harry Met Sally," "The Apartment" and "An Affair to Remember." Songs to sway to include Emmi Breston's slowed-down version of "Auld Lang Syne" and "Happy New Year," from Judy Garland.
Special Menu
Make a meal that you wouldn't normally prepare to mark this special evening. Take inspiration from the French with a dinner of steamed mussels, roasted chicken, pomme frites and chocolate souffle, or get fancy with seafood such as scallop linguine with crusty bread or lobster tails and a green salad. Don't forget the sparkling wine; you can spring for the real thing -- actual Champagne -- or enjoy a glass of cava or prosecco, alternative sparklers.