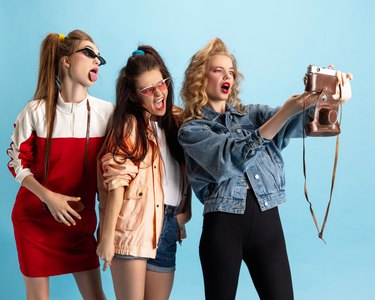 Whether you're dressing up for a retro theme party or getting ready for Halloween, focusing on a specific decade can be a great way to come up with costume ideas. Here are some of the big themes and best decade dress up ideas from the 20th-century decades to get you thinking about easy and fun outfits.
1910s -- Newfound Freedom Decade Clothing Ideas
In the teens of the 20th century, designers were relaxing the style of female dress, setting aside structured corsets and creating more relaxed and detailed ensembles that capture ​La Belle Epoque​ (aka the Beautiful Age). World War I lasted from 1914 to 1919, so an outfit that suggests early 20th-century military makes sense for a very cool decade dress up idea.
For anyone who has the appropriate facial hair, the Russian Revolution occurred in 1917, and a Nikolai Lenin costume only requires a pointy goatee, balding head and nice suit. For something more fun, or for a child, you can dress up as a clock and remind your friends that Daylight Savings Time was introduced in the United States in 1918, during one of the most fun decades to dress up as.
The Roaring Twenties are remembered for flappers, prohibition and the Jazz Age, as captured in F. Scott Fitzgerald's novel ​The Great Gatsby​. The suits men wear today are partially based on a style first established in the late 1920s, so finding a suit suggestive of the time period shouldn't be too difficult.
Flapper-style dresses, with short hemlines and shimmering fringe, can be found in vintage stores or retro shops. For more fun decade dress up ideas, costume makers can play with the facts that the tomb of King Tut was discovered in 1922, "Winnie the Pooh" was published in 1926 and Babe Ruth set his home run record in 1927.
1930s -- The Great Depression
While the 1930s were a dark time in American history, there are many iconic people from that time period who can celebrated in costume. Bonnie and Clyde went on a momentous crime spree in the early 30s. Infamous gangster Al Capone was imprisoned for tax evasion in 1931. Of course, anyone who wants to dress up as hobo trying to survive the effects of The Great Depression can sport a worn-out suit or barrel with suspenders for a great decade dress up idea.
For something fun, remember that the board game Monopoly was introduced in 1935, and a Rich Uncle Pennybags outfit can be made with a top hat, tuxedo and mustache. Children might want to wear a costume of Snow White or one of the Seven Dwarfs since the Disney animated movie of the story was released in 1938. Dressing up as the characters of the Tin Man, Cowardly Lion, Scarecrow or Dorothy also make sense given that the "Wizard of Oz" premiered in 1939.
1940s -- World War II and Beyond
While World War II started in the late 1930s, its influence was most strongly felt in the 1940s in America. Much clothing was made out of synthetic material since natural fabrics needed to be used for military purposes. Women's clothing had a powerful new silhouette, with broad-shouldered suits and thin waists. For men, any military suit from the era makes sense. Zoot suits, with their wide-lapel coats and pegged trousers, were considered rebellious for their wanton use of materials. More fun ideas can be inspired by the decade's inventions: Bugs Bunny debuted in 1940, M&Ms first appeared in 1941 and the Slinky was first sold in 1945.
The post-war era of the '50s is often remembered for rock 'n' roll, bobby-soxers and greasers. Dress as Elvis Presley, Buddy Holly or Little Richard with a suit and some pomade, and everyone will know what decade you're trying to capture. A poodle skirt and and cardigan sweater make for a quick bobby-soxer outfit. Wear a leather jacket, T-shirt and rolled-up jeans for a greaser ensemble. Kids can also have fun by playing with the launch of Disneyland in 1955, the publication of "Cat in the Hat" in 1957 and the introduction of LEGOs in 1958.
Most folks remember the '60s were known for long-haired hippies, Vietnam War protests and psychedelic rock tunes. The first half of the decade was relatively clean cut, with women entranced by Jacqueline Kennedy's Chanel-suit style and men donning clean-cut mod suits and pompadours. If you have a tie-dyed shirt and long wig, put together a hippie costume. Bug-eyed sunglasses, a pillbox hat and Capri pants are the start of a good Jackie O. outfit. Of course, anyone who loves The Beatles can wear a black suit with a thin tie and mop-top wig to become one of the Fab Four. Movie and TV fans might dress up as one of the icons of the era such as James Bond, Dr. Who or Captain Kirk.
After the idealism of the '60s "Summer of Love" came a "far out" decade of drugs, disillusionment and disco. If you can find a leisure suit in a thrift store or your dad's closet, you have an instantly memorable 70s ensem. Tight polyester shirts and wide-cuffed bellbottoms also make for a classic look. To celebrate '70s pop culture, dress up as a character from one of the biggest titles of the era such as "Star Wars," "MAS*H" or "JAWS" or have fun going punk as member of the Sex Pistols, Ramones or The Clash.
The 1980s -- New Wave, Hip-Hop, Cold War Politics
The style of the '80s was over-the-top, with plenty of middle-part hairdos and suits with shoulder pads. In response to the excess of the '70s music came the stripped-down, punk-influenced New Wave sound. Have fun dressing up as a member of Devo, Duran Duran or the B-52's.
The '80s were also the golden age of rap, with stars such as Run-D.M.C., Kurtis Blow, Grandmaster Flash, Public Enemy and N.W.A. changing popular culture one rhyme at a time. To tap into some of the fads of the era, dress up as a Cabbage Patch Kid, Pac Man fan or Rubik's Cube. Of course the big news story of the decade was the end of the Cold War and the destruction of the Berlin Wall. For one of the bst decade clothing ideas -- if you have a pin-striped suit and a good amount of hair gel -- you can try to look like President Reagan
1990s -- Grunge, Boy Bands and Hammer Pants
The '90s didn't have one defining trend, it had several. Grunge music was personified by plaid shirts, greasy hair, goatees and the rock icon Kurt Cobain. Boy and girl bands such as 'NSync, Destiny's Child and the Spice Girls ruled the pop charts. The rap charts had Tupac, Biggie, the Beastie Boys, A Tribe Called Quest, Dr. Dre and Snoop Dogg.
Some of the big news stories of the era can also make for great costumes such as O.J. Simpson, Lorena Bobitt, Arsenio Hall, President Bill Clinton and Michael Jordan. Of course, if you can find a pair of parachute pants and want to keep telling everyone "U Can't Touch This," an MC Hammer outfit is the way to go to complete one of the very best decade dress up ideas.