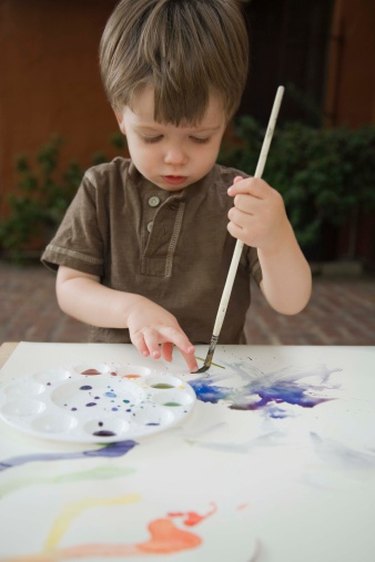 Teaching kids about helping others and sharing their faith is an important, lifelong lesson. Creating crafts around a missionary theme will not only reinforce the biblical principles of spreading the Gospel and giving to others, but will help children learn about other countries around the world.
Crafts That Encourage Giving
Help children save money to give to the missionary of their choice by creating a giving jar. Use a plastic jar so it is more durable. Use a permanent marker to write "Missions" on the front of the jar. If you have a picture of the missionary you are planning on supporting, you could glue his picture to the jar. Or, paste a picture of the country the missionary is from on the jar. Encourage children to put extra money and part of their allowances into the jar to give to missions. The parent or teacher should set the example by making the first donation.
Crafts That Teach Geography
Choose a missionary to support, then research the country she ministers in. Children can make a map of that country, or you can help them make a flag. Flags can be made of fabric and fabric paint or drawn on paper. Additionally, research crafts that are native to the country of the missionary. Help children make some of the crafts as a way to teach them about the culture and people of the country they are helping to support.
Crafts That Reinforce Lessons
Make magnets to remind a child to pray for the missionary of her choice. The magnets can be simple card stock frames around the missionary's picture, or clay crosses with a magnet attached. Flash cards can be another fun craft. Make flash cards to help memorize the biblical verse Matthew 28:18-20, known as "The Great Commission." This Scripture says to go and make disciples of all nations and baptize them in the name of the Father, of the Son, and of the Holy Spirit.
Crafts That Encourage Evangelism
A child can be a missionary in his own neighborhood and circle of friends. Help him with crafts that will not only teach him how to share his faith, but be a visual support when he shares his faith. Witness bracelets are an easy craft through which to share faith. String black, red, white and green beads on a leather string to create a bracelet. Black represents sin, red represents the blood of Jesus, white represents a pure heart after Christ's forgiveness, and green represents new life and growth. Another evangelistic craft is to create an invitation to church that children can share with their friends.