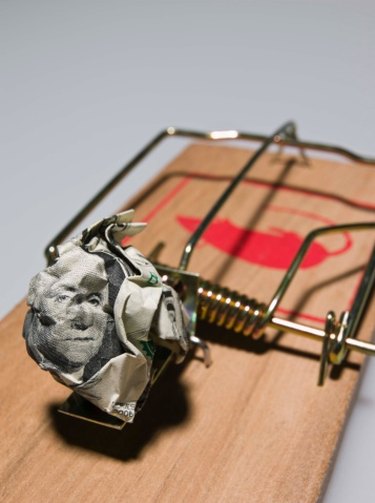 Everyone appreciates a thoughtful gift, but nothing's better than receiving cold hard cash on a special occasion. Whether your next gift is for a birthday, holiday, graduation or shower, skip the envelope and give the gift of money in a creative, fun and literal way. Your unique present will be remembered and appreciated long after the cash is spent.
Birthdays
Make a birthday extra special for a friend or loved one with money origami. Make several money rings out of small bills for kids, place in a small box with fabric and wrap with colorful paper. For that special someone, make one ring with a $50 or $100 bill and "propose" a happy birthday. Make it extra special – and valuable – with an accompanying money gift box. All you'll need is two bills to make a fully functional, sliding gift box, perfect for placing the money ring inside.
Holidays
At Christmas, give the gift of money in the form of miniature candy cane ornaments. Tightly roll dollar bills around thin, pliable wire, placing a small piece of tape at both ends to keep the bill wound around the wire. Gently bend one end into a hook, folding and flattening the wire to form a candy cane shape. Stuff money candy canes into a small stocking, or tie into a bouquet with red and white ribbon.
For Valentine's Day, craft a single rose or a bouquet of flowers for your sweetheart with dollar bills of varying values. Glue shiny new quarters, nickels and dimes to faux branches of baby's breath and include with the money rose or bouquet for an extra-special touch.
To make a fun Easter basket, tightly fold 10 to 20 dollar bills and place each one in a plastic, colored egg. Fill a basket with shredded play money, nestling the eggs inside. Wrap the entire basket in clear cellophane and tie at the top with a money clip and ribbon to keep eggs inside.
Graduations
Whether in high school or college, visions of diplomas and the cash gifts they bring dance in every senior's mind. For a more serious tone, place a crisp, stiff large bill inside a book about managing money, like a bookmark. Or, loosely crumple up 50 to 100 $1 bills, toss them into a large box, and wrap for a fun and playful gift. For a challenging craft project, make a wallet out of money, and fill it with additional bills or a check.
Showers
Bridal showers, bachelorette parties and baby showers are popular occasions for homemade gifts and novelty items. Use money to give traditional gifts and items additional worth to the special girl. Instead of lace, line a wooden wishing well with carefully-taped dollar bills. Overlap the bills slightly to create the appearance of bricks and shingles. Or, cover a plastic umbrella with dollars, carefully taping in place, and use as a decoration. For a funny, suggestive bachelorette gift, neatly arrange lingerie in a small shirt box, and carefully tuck folded up singles in bra cups and panty so that the money peeks out from the fabric.