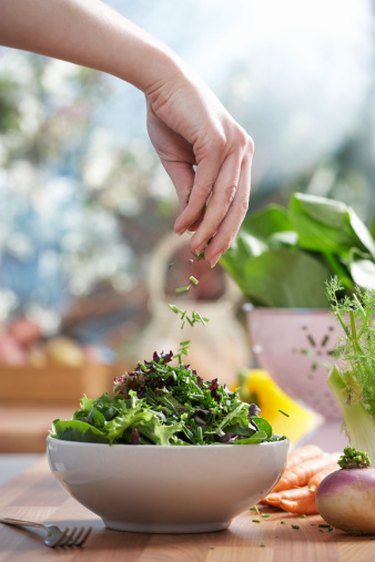 Your mom and grandmother probably served roasted leg of lamb with slivered garlic cloves nestled into the roast and mint jelly on the side. These flavor affinities work well, but they are not the only choices. Karen Page and Andrew Dornenburg, authors of "The Flavor Bible," suggest lemon, mustard, rosemary, thyme and orange as possible choices. Or try a Latin American twist for salads and use corn, cilantro, cinnamon or lime.
Herbed Green Salad
Lamb pairs well with all types of fresh herbs. Light lettuces such as butter, red leaf or a spring mix work best in an herb salad. Add whole leaves of mint, parsley, dill and basil in a ratio of 4 cups lettuce to 1 cup mixed herbs. Use a light, lemon-mustard vinaigrette or a honey-mustard vinaigrette and liven up the salad by adding chunks of feta or goat cheese.
Bean Salads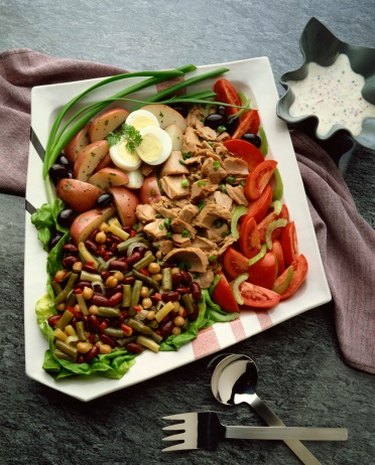 Begin with either garbanzo, edamame or the small, French flageolet beans if you can find them. If you use canned beans, rinse them well to remove some of the salt. Toss the beans in a vinaigrette made with plenty of garlic, red wine vinegar, chopped parsley, chopped red onion and chopped thyme. If you cook dried beans, toss them with the vinaigrette while they are still warm so the dressing acts like a marinade and soaks into the warm beans.
Roasted Vegetable Salad
Serve a roasted vegetable salad either directly from the oven or allow it to reach room temperature. Any combination of vegetables will work, but tomatoes, onions, potatoes and eggplant pair especially well with lamb. Toss large chunks of vegetables with 1 tbsp. to 2 tbsp. of olive oil, kosher salt, freshly ground pepper and either rosemary or thyme. Bake the medley on a baking sheet for 20 minutes in a 400 degree Fahrenheit oven until they are nicely caramelized and brown.
Whole Grain Salads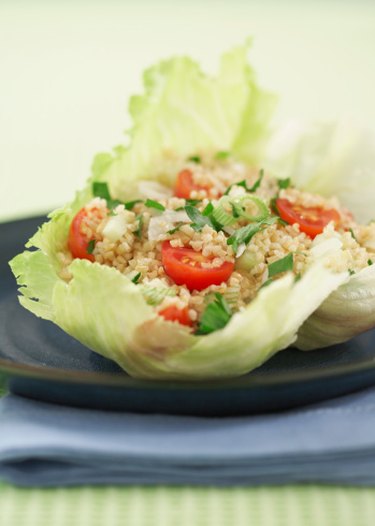 Instead of potatoes or rice served hot, give your family a healthy, whole-grain salad made from your choice of brown rice, bulgur wheat or farro. Whole grain salads should be served at room temperature for the flavors to be at their best. Cook the grains according to directions and let them cool. For a tabbouleh salad, begin with ½ cup of bulgur and add lemon juice, olive oil, chopped scallion, 2 cups of chopped parsley and 1 cup of chopped fresh mint leaves. For a brown rice or farro salad, begin with 1 cup of cooked grains and add chopped red onion, ½ cup each of chopped red sweet peppers, carrots and celery. Toss the salad while the grains are still warm with your favorite vinaigrette and add ½ cup of chopped parsley. For a Middle Eastern salad, toss the rice with dried apricots, slivered, toasted almonds, cinnamon and a vinaigrette made with lemon zest and lemon juice.