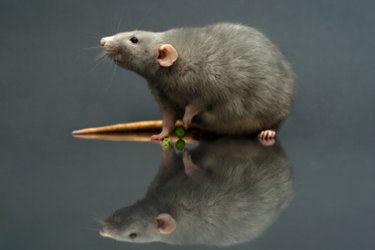 Mice, rats and other rodents live under stacks of wood, old furniture and other items around your home. The pests not only carry diseases but also destroy furnishings inside and outside of your home. Rodents can fit into spaces as small as 1/4 inch, so it's important to secure your home properly to keep the pests from entering it. There are a variety of ways to keep rodents from coming into your home.
Steel Wool
Inspect the outside of your home and place heavy-gauge steel wool around and under any cracks, crevices and other openings on the exterior of your home. Also, place the material around any pipes, areas larger than 1/8 inch and any ductwork entering and exiting your home. Heavy-gauge steel wool is available at hardware, home improvement and retail superstores as well as online.
Traps
Purchase and place rodent traps, available at hardware, home improvement and retail superstores, around the exterior of your home without any food on the traps; this is known as pre-baiting. Rodents notice a change in your home's exterior and are afraid of new items outside of your home. The rodents become used to the traps over time and will be drawn to them once bait is present. Spread peanut butter, dried fruit or candy in the center of the trap and place them along the exterior walls of your home. Keep your children and pets away from the traps. Check the traps on a regular basis and dispose of any dead rodents in your home's outdoor trash can. Re-bait and reset the traps as needed.
Bait Stations
Bait stations are self-contained boxes that trap rodents inside of the devices without the hassle of having to set traps and place bait in the devices. The boxes are available at hardware, home improvement and retail superstores as well as online. Bait stations contain chemicals known as rodenticides that kill rodents while the animals are trapped inside of the boxes. Purchase bait stations that are registered with the U.S. Environmental Protection Agency (EPA) and contain a label stating specific instructions and recommendations.
Tips
If using bait stations, place them no farther than 10 feet apart and in areas where you have seen rodents trying to enter your home. When placing traps and bait stations, secure them to a fixed object to keep rodents from dragging the trap(s) or bait station(s) to another location. Using a combination of traps and bait stations will help keep rodents out of your home after sealing any open areas with heavy-gauge steel wool.