Hamburger, a sirloin filet, beef brisket and any beef dinner tastes even better with a side salad that mirrors its earthy flavor or provides contrasts in flavor, texture or temperature. Choose traditional beef and salad combinations and seasonal favorites, or go with whatever creative combinations you can imagine. Your meal benefits from complex and interesting pairings.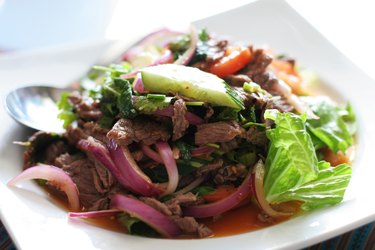 Casual Beef Dishes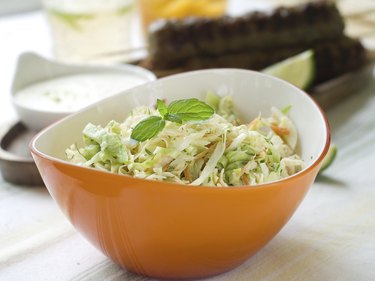 For a weeknight dinner of sloppy Joes, meatloaf or hamburgers, choose rustic and traditional salads that match the meal's home-cooked appeal. Cole slaw, comprising crisp cabbage and creamy dressing, and carrot-raisin salad, with grated carrots and sweet raisins, contrasts with the soft texture of the meat. Although potato salad doesn't provide a crunchy contrast to these casual but classic beef dinners, it matches the homey, warm emotional feel.
Beef on the Barbecue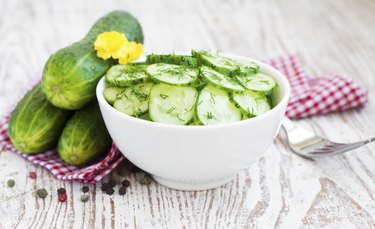 To serve with barbecued ribs and steaks, you need a salad that provides a light and soothing contrast to spicy and strong flavors off the grill. A refreshing cucumber and dill salad with either a creamy mayonnaise or a vinaigrette dressing is appropriate, as is a mixed fruit salad, either undressed or tossed with a spritz of lime juice. Three-bean salad with onion slices, chopped parsley and cherry tomatoes is also refreshing and stands up to the strong flavors in barbecue sauce.
Elegant Beef Dinners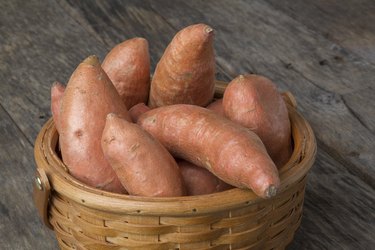 Sometimes a simple salad with very fresh and delicate Boston lettuce, dressed only with a splash of oil and vinegar and a sprinkling of salt and pepper, makes the most sophisticated choice for a classic roast beef or filet mignon dinner. For added complexity, add toasted cashews, pear slices and chunks of blue cheese. Roasted sweet potatoes, added to a spinach or arugula salad, give an elegant beef meal an earthy appeal; add a few tangy capers to balance the sweet vegetable.
Briskets and Stews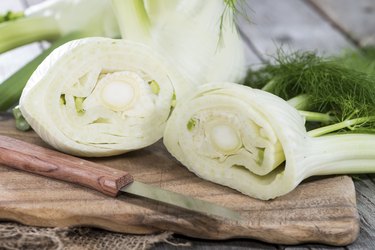 A warm bowl of beef stew or a satisfying beef brisket epitomizes the comfort that beef dishes provide in winter. Serve a cooling green salad alongside the meat with ingredients that come to market in the same season and provide a refreshing contrast, such as flavorful pomegranate seeds or chunks of oranges. For beef brisket, a salad with roasted root vegetables and crisp, thinly sliced fennel gives the meal warm flavor and crisp texture.