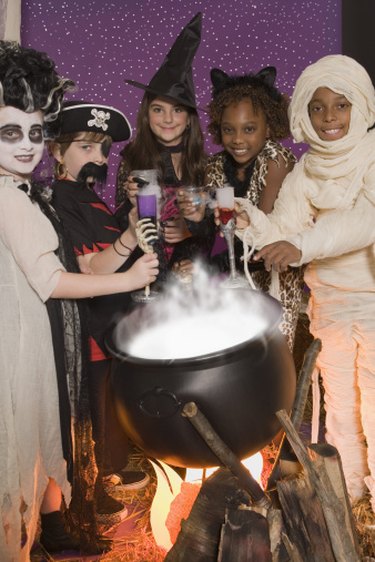 Halloween brings to mind trick or treating, costumes and Halloween parties. If you are throwing a Halloween party this year, you will need plenty of creepy games to keep your guests entertained as well as spooked. Scary food games will amuse your friends while giving them chills. Kids and adults alike will love these games.
Guess the Gross Food
Freak out your party guests with the Guess the Gross Food game. Line at least five paper bags with plastic and fill each one with a different food that resembles a body part. For brains, you can use boiled cauliflower or cold, wet tofu. Use olives or peeled grapes for eyeballs, dried apricots for ears, popcorn kernels or wasabi peas for teeth, dried cranberries for scabs and cooked spaghetti for veins. Tell a scary story that involves a corpse or body parts. After the story, your party guests can stick a hand in each bag and guess what food is in the bag. The person with the most correct answers wins.
Bobbing For Shrunken Heads
Bobbing for apples is a classic Halloween game. Give the game a twist by bobbing for shrunken heads. To make a shrunken head, peel a large apple and toss it with a lemon juice-salt mixture. Use a small knife to carve a face into the apple. Place in a warm, dry location. The apple will shrivel over a span of two weeks, leaving you with a shrunken head. Place the shrunken heads in a large tub of water. When it's time to bob for apples, don't let your party guests know that you have used shrunken heads. When they look into the water for the first time, they will get a bit of a fright.
Cupcake Decorating Contest
Hold a cupcake decorating contest. The person who designs the scariest looking cupcake wins. Arm party guests with a plain cupcake. Make different colored frosting, such as green, black, purple, red and orange. Set out assorted candies for decoration, such as candy corn, licorice, M&Ms, red hots and gumdrops as well as sprinkles or cookies that can be crushed to resemble dirt. Create different insects, monsters, ghosts, witches, black cats, graveyard scenes, jack o' lanterns or scary faces.
Brain Eating Contest
Scare and gross out your friends by daring them to enter a brain eating contest. Purchase a brain gelatin mold from a novelty store or online retailer. Make the flavor gelatin of your choice. Remove the gelatin from the mold and cut off the top of the brain mold. Scoop out a hole in side the brain and fill with pudding, peeled grapes or gummy worms, then replace the top of the brain over the filling. This will make the brain look creepier. Bind your contestants' hands behind their backs and let them eat. The first one to finish their brain wins.