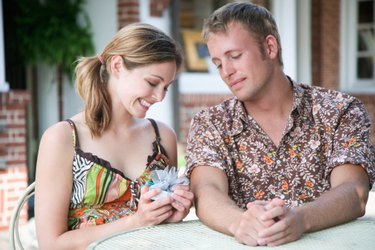 The six-month dating mark signifies a new relationship that is growing into something more serious. When you get your girlfriend of six months a birthday present, your gift should reflect your growing fondness for her. Use the gift to symbolize how important she is to you. Show her how well you know her by giving her a gift that encapsulates her personality.
Hobbys
Chose a gift that fits with one of your girlfriend's hobbies. For example, if she enjoys reading give her one of your favorite books and write a note inside the front cover. If she is an avid tennis player, give her a new tennis racket or a tennis bag. Show your girlfriend how well you know her by giving her something that she's mentioned in passing. For example, if she mentions how much she loves cooking soup, get her a soups recipe book, a ladle and several jars of spices.
Fashion and Beautys
Give your girlfriend something that accentuates her beauty and makes her feel gorgeous. For example, give her a new bottle of perfume or an assortment of bath and shower gels. Give her the handbag she's been wanting, a scarf and matching gloves or a new pair of sunglasses. Show her that you care about her with a piece of simple jewelry such as a thin silver necklace or a pair of pearl earrings. Take her for a special night out on her birthday so she can show off her gift.
Experiences
Rather than choosing a more conventional material item, give your girlfriend an experience to remember for her birthday. For example, take her for a romantic helicopter ride, go for a romantic camping getaway, give her weekend at a spa or buy her tickets for a Broadway play. Let her birthday be an opportunity to create new memories together. To make the gift even more special, make it a surprise by waiting until the last minute to tell her what's happening.
Photos
Personalize the birthday gift by giving a photo present. Enlarge a photograph of the two of you and frame it in a quality frame. Or, get more creative by using an online photo printing company such as Costco Photo Center, Kodak Gallery or Snapfish. Use one of these sites to create photo mugs, photo blankets, giant photo canvases, photo drink coasters or photo books. Choose an item that best suits your girlfriend's personality and customize it with an assortment of your favorite photographs.