You usually have a ​theme​ that goes along with a photo album, such as a vacation, a holiday or a special event. A good photo album title puts that theme into words and makes it clear to anyone who sees the album what type of photos await within.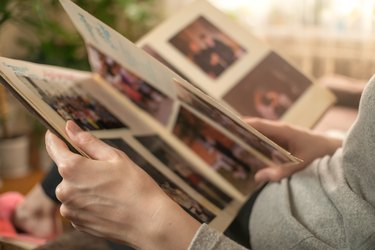 It can be fun to get creative with the album title, but you can also say something direct and to the point. Which approach you take depends on what type of photos are going into the album.
A straightforward title works well for this type of album, but you can still have a little fun with the title:
Happy 1st Birthday!
My Birthday Celebration
Birthday Party Time
Best Birthday Ever
16 Couldn't Be Sweeter

The Big 3 - 0
29 for 5 Years and Counting
Way Over the Hill.
A title for a holiday album can be as simple as the name of the holiday and the year, or you could try a more creative approach that describes what happened during that year's particular holiday:
4th of July Fireworks Celebration
Family, Friends and Fireworks

Home for the Holidays with Family and Friends
A Thankful Thanksgiving
Winter Celebrations.
A straightforward title is not ideal in this case. Think about what made your vacation so wonderful, and try to capture that in the title:
Our Honeymoon -- Wedded Bliss
Magical Moments to Remember
Camping and Cookouts
Big City, Big Fun
My Dream Vacation to [Name of Location]
Epic Family Fun.
A straightforward title works well here, but so does a little creativity:
High School Highlights
It's Elementary
[Name of Child]'s School Pics.

There are three basic types of photo albums. The way you add the title to the photo album depends on which type of album you're creating.
A personalized option is to gather supplies from the craft store and make your own scrapbook photo album. This option works especially well if you have other keepsakes -- such as concert tickets or a love note -- that you want to include with the photos. Use scrapbooking supplies such as stickers to attach the title to the cover or binding.
Ready to Fill Photo Album
Another option is a standard album that comes with the photo slots ready to fill. This type of album may include an area on the spine or cover where you can write the album title with your favorite pen or marker. If there isn't a place to write the title, use scrapbooking or other stickers to adhere your title to the cover, or you can write the title on the cover with a permanent marker, freehand or with a stencil.
You can create a digital album on an online photo site or by using software on your computer. Digital albums can be shared online, or you can have them printed in a photo book. Printed photo books make great gifts, because they look more professional than photo albums and you can have multiple copies printed.
If you're creating a photo book, you would type the title either on the cover of the album, on the spine or both. Select your favorite font and color to make the title really stand out.
If your album will only live online or on your computer, the website or the software you're using should include a place where you can type your title. You may or may not have options like choosing your font.