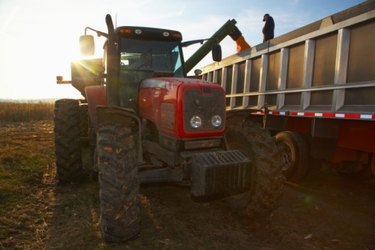 The Kubota B7100 was a Japanese tractor that was produced from 1976 to 1985. Its primary uses were for farming and other agricultural projects. The Kubota B7100 tractor was not produced in the late 1980s. Since 1986, only the hydrostatic models B7100E, B7100D and the B7100HST have been available new.
Engine
The engine was manufactured by Kubota; it was a D750-A model. It was a 3-cylinder, diesel engine with natural aspiration. It was rated at 16 horsepower with a power take-off of 13 horsepower and 2,800 rpms. The Kubota B7100 was liquid-cooled and had a dry air cleaner. It contained one battery with a 12-volt starter and starter power of 1.1 horsepower. The coolant capacity was 4.9 quarts and the oil capacity was 4.1 quarts.
Transmission & Mechanical
The Kubota B7100 had an unsynchronized gear transmission. It contained six forward gears and two reverse gears. The transmission had two levels. The left-handed lever was for three forward gears, or reverse, and the right-handed lever selected high or low range. It had a dry-plate clutch. This machine did not have power steering. The transmission oil capacity was 12.2 quarts. The B7100's top speed was 8.3 mph in sixth gear.
Dimensions
The overall weight of the Kubota B7100 was 1,080 pounds. It was 78.75 inches long, 40 inches wide and 45.5 inches tall. The B7100's ground clearance was 11.375 inches at the transmission case with a front axle ground clearance of 9.5 inches. The Kubota B7100's wheelbase was 49.5 inches. It used standard agricultural tires that were 6 inches wide, with 12-inch rims on the front and rear tires that were 8 inches wide with 16-inch rims. It was available in 4 x 2 two-wheel drive and 4 x 4 four-wheel drive options.
Other Specifications
The Kubota B7100 had a fuel capacity of 3.4 gallons and a hydraulic fluid capacity of 3.6 gallons. It came equipped with a category 1, three-point hitch and had a rear lift of 1,036 pounds. The power take-off of rear rpms was 514/786/1498. The B7100 had a foot pedal differential locking system. It had differential mechanical expanding brake shoes. The Kubota B7100 cab was an open-operator station with a two-post, rollover protection system.