Dyson is renowned for its bagless, cyclonic technology vacuum cleaners. It produces different types of vacuum cleaners, including handheld, canister and upright. The major differences between the vacuums, however, are their features. All new Dyson canister and upright vacuum cleaners come with a five-year warranty on workmanship and parts, and new handheld vacuum cleaners come with a two-year warranty on parts and workmanship. Certain Dyson models will overlap features.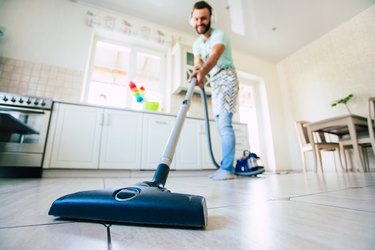 The asthma-and-allergy-friendly vacuums are certified by the Asthma and Allergy Foundation for America, and they are suitable for people with asthma and allergy problems. Dyson offers both upright and canister vacuum cleaners that comply with this certification. These vacuum cleaners range in price from $400 to $600 in 2011, and these include models like the DC25, DC24, DC28, DC17 and DC23. Always look for the Asthma and Allergy Foundation for America seal to determine if your selected vacuum cleaner is compliant.
The all-floor models help you clean carpets, rugs and bare floors, and Dyson offers both canister and upright all-floor vacuum cleaners. These vacuums range in price from $400 to $600 in 2011. Price differences vary by features. Models in this group include the DC24 All Floors, DC23 Turbinehead and DC26 Multi floor. A representative of this model is the DC26 Multi floor model, which has a special carbon filter for cleaning dust from bare floors.
The lightweight vacuum cleaners only weigh between 11.65 and 16.12 pounds, making them more maneuverable. These vacuums are easier to store and carry in multilevel homes. They range in price from about $400 to $550 in 2011. Lightweight vacuums include the DC24 and DC25 series, and these include both upright and canister vacuums. One of the best-priced for features and one of the lightest models is the DC24, which comes with a motorized brush bar that helps pick up hair and dirt from your carpet. It also has a reversible wand to access hard-to reach places.
The Dyson Animal series includes the DC23, DC24, DC25, DC28 and DC31 Animal models. These vacuums are specifically for people that own pets. Pet hair and dander are hard to remove with standard vacuum cleaners, but these models have special suction tools to do the job. Dyson offers canister, upright and handheld pet vacuums, ranging in price from $270 to $600 in 2011. An example of a handheld animal vacuum is the DC31, which features a motorized brush bar and a dual-power mode to provide you with a constant amount of suction.
The easy-to-store vacuums include all of the handheld and the DC24 lightweight vacuum cleaners. These models are smaller than the standard vacuum cleaners, making it easier to fit in your closet or in a corner. The models in this series range in price from $200 to $500 in 2011, making them cheaper than most other models. A representative of this type of vacuum is the DC24 Animal, which is both compact and lightweight.