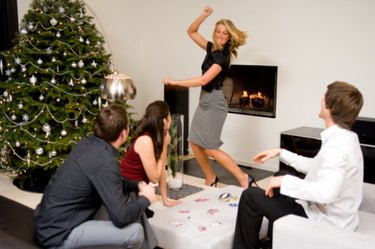 Christmas is a time for friends and family to come together and celebrate. For Christian people, Christmas has a religious meaning that is often lost in the consumer rush around the holidays. Celebrate with your Christian friends by putting a religious spin on some classic holiday games. Provide plenty of holiday refreshments and create a few special treats for the winners of your games.
Christian Christmas Charades
Charades is a game that gets everyone up and active, keeping the party lively. Start by having each person come up with five Christian or Christmas-theme people, places, films, books, plays or television shows. Divide the group into teams with three to five people per team. Take turns acting out the clues without using words or props. The team with the most correct guesses wins.
Trivia
Use the Bible to come up with some Christian-theme trivia to celebrate the holiday. Include clues that are easy, intermediate and hard, and split them into three piles. Easy clues equal one point, intermediate clues equal two points, and hard clues equal three points. Divide the group into teams so nobody feels put on the spot, and reward the winning team with Christmas cookies or small gifts.
Karaoke Christmas
Load up your karaoke machine with your favorite Christian Christmas songs. If you don't have one, download some instrumental versions and print out the words to the songs. Have a competition, challenging guests to get wacky and silly while they perform the Christian holiday classics. Select winners with a secret ballot.
Christian Dirty Santa
Dirty Santa is a gift-giving game. Before the party or event, ask all of your guests to bring a Christian-theme gift such as a rosary, Nativity scene, mini-Bible or decorative cross. When guests arrive, number their gifts and put the numbers into a hat. Have each person draw a number. The person who draws the number 1 chooses a gift and unwraps it. The person who draws number 2 can pick another gift or take the first person's gift. The game continues until everyone has chosen a gift.