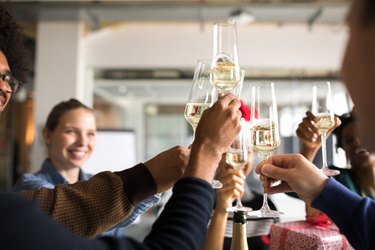 There's a wide range of Christian Christmas games that you can play at your religious gathering. Some incorporate good clean fun that's appropriate for the entire family, and some are a little more adult-themed.
Bible-Themed Family Games
One of the favorite games for adults and families is a version of Christian Christmas charades. You play just like the regular version of the game, except that all questions have something to do with the Christmas story.
Another idea for interactive and high-energy fun is the Bible Christmas story version of Minute to Win It. Rounds of the game include Follow the Star, the Greatest Gift, and J is for Jesus. Do You Hear What I Hear, named for the religious song, is a game in which you wrap different numbers of bells in boxes. Each player shakes them, trying to guess how many bells are in each package.
You could also engage in a little friendly competition by hosting an ugly or obnoxious Christmas sweater contest. You can award bonus points for Bible-themed sweaters.
Other Adult Family Games for Christmas
There are Christian variations of a lot of other games as well. You can do the same thing with Pictionary. Making the clues hard to guess might be tricky, but that makes it appropriate for a mixed-age group. You can create Christian Christmas trivia, too, with details from the Christmas story, the Bible in general, or even just the history of Christmas.
Speaking of wrapped packages, play a wrapping contest game with a catch. Have players work in pairs (you can also do parent-and-child teams) to wrap a present the fastest. The catch? Each player can only use one hand. To make it even more interesting, make them use their non-dominant hand only.
You can also play games about Christmas songs. Many versions of Name That Tune are available for Christmas songs, including religious songs. You can also play a Name That Emoji Christmas version. The first person to correctly answer every question wins.
Dirty Christmas Party Games for Adults
Christians like to have adult fun, too! As long as it stays within boundaries, it's perfectly fine to indulge a little bit. Drinking games are one way to liven the party and are definitely adult-only. Try putting on a Hallmark Christmas movie (does it get more wholesome than that?), and use guidelines for a drinking game created by the writers at Country Living that make a joke out of how kitschy it is.
Make classic drinking games Christmas-themed. Play beer pong, but instead of beer, use spiked cocoa. Make Christmas-themed Never Have I Ever questions ahead of time and have players pull them randomly. Some examples include "never have I ever had Christmas with a partner's family" and "never have I ever bought gifts on Christmas Eve." Drink if you've done it!
You can also try out dirty Santa theme ideas. There is a game called Dirty Santa, which is like White Elephant but with an adult theme. If family members engage in drinking, you can play a drinking game with one of the many classic Santa-themed movies (like the Hallmark game). The classic claymation movies make for some of the best options.