One of the most exciting parts of a potluck is seeing which delectable dish each guest brings. (The other exciting part is eating those dishes, of course.) Deciding on what to bring to your next group gathering doesn't have to be a burden — just try one of these inventive ideas that will have guests begging for your recipe.
Creamy Chicken Broccoli Casserole
This chicken casserole is one of those make-ahead recipes you should bookmark in the event of a last-minute get-together. The hearty mix of chicken, broccoli, cheese, and rice will fill up about six people.
Two-Ingredient Chicken Wings
Ah, the slow cooker: the answer to the prayers of novice cooks and people on the go. Chicken wings have never been easier! Just throw two ingredients (yes, two!) into the slow cooker, set it, and forget it (but don't forget to set an alarm).
Tasty Tater Tot Casserole
Considered a kid-friendly version of Shepherd's Pie thanks to the layer of tater tots, this casserole can be cooked up the night before your potluck and heated in the oven when it's time to eat.
Healthy Crock Pot Chili
A nutritious and filling chili recipe calls for lean turkey, veggies, beans, and a flavorful mixture of herbs and spices. Prepare for guests to want several bowls of this nourishing meal.
Vegetarian Chile Relleno Casserole
For your next fiesta, bring a chile relleno casserole filled with enchilada sauce, cheese, green chiles, and as much cayenne pepper as you can handle. Wash it down with a classic margarita on the rocks.
Scrumptious Chicken & Rice Skillet
This Tex-Mex skillet reminds me of a deconstructed burrito, and you can't really go wrong with a burrito. This crowd-pleaser can be topped with avocado, salsa, or sour cream.
Easy Beer Mac & Cheese
Adding a malty ale to a savory dish is an innovative way to transform a classic recipe. Try cooking this twist on mac and cheese and be ready to dole out the recipe to your dinner guests.
The Juiciest BBQ Chicken
One of our favorite goodies to buy at our local farmer's market is homemade barbecue sauce. We save it for a must-try recipe, and these oven-baked chicken thighs absolutely qualify.
Sweet Potato Black Bean Enchiladas
Sweet potatoes are packed with vitamin A and spinach is full of iron, so they're great additions to this enchilada dish. It can be served with a side of rice or stand alone in all of its cheesy, spicy glory.
Tasty Taco Casserole
Taco Tuesday doesn't limit the menu to crispy tortillas and ground beef. Try this genius re-imagining of tacos: a casserole layered with all the fixings.
Chipotle Beer Chicken Sliders
Among the many wonders of beer is its ability to enhance the heat in a dish. Smokey chipotle chiles are balanced out by honey and brown sugar to make these chicken sliders irresistible.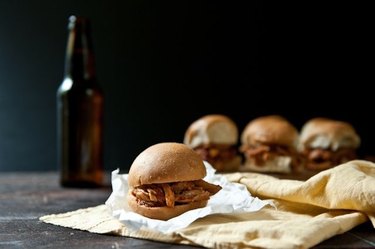 Homemade Nacho Cheese Dip
The appetizers are just as important as the potluck main feast! In 10 minutes flat you can have a pot of melted nacho cheese ready for dipping as soon as the guests arrive.
Juicy Chicken & Spinach Pasta
One-pot pasta dishes are the stuff that weeknight dinners are made of. Prep this chicken and spinach recipe in a flash for a satisfying meal with minimal clean-up.
Garlic Sriracha Chicken Wings
These spicy and slightly citrusy chicken wings will go fast due to the Sriracha marinade that they're broiled in. Be sure to have plenty of napkins handy for your friends who manage to get sauce on their face and fingers. (No judgement here — that's how they're supposed to be eaten!)