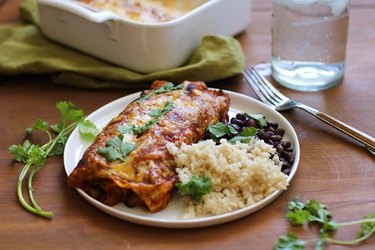 Looking for a fresh Mexican-inspired dish that's simple to prepare and fun to share with friends or family? Look no further! Authentic Mexican enchiladas typically use corn tortillas and are filled with meat or cheese. This nontraditional vegetarian approach to enchiladas is a lighter alternative that is both healthy and filling. Use your favorite vegetables for this simple and satisfying dish.
Things You'll Need
3 tablespoons olive oil

1 large sweet potato, peeled and chopped into 1/2-inch pieces

1 medium yellow onion, finely chopped

1 large bell pepper, cored and chopped

1 teaspoon ground cumin

1 teaspoon chili powder

1 /2 teaspoon sea salt

5 ounces baby spinach

1 cup canned black beans, drained and rinsed

6 to 8 medium-sized flour tortillas

2 (10-ounce) cans red enchilada sauce

1 1/2 cups pepper jack cheese, grated
Step 1: Saute the Vegetables
Add the olive oil, chopped sweet potato and onion to a large skillet, and heat over medium-high. Saute, stirring occasionally, for 8 minutes.
Add the bell pepper, ground cumin, chili powder and salt. Saute, stirring occasionally until vegetables have softened, about 10 to 12 minutes. When the vegetables begin drying out or sticking to the skillet, reduce the heat to medium and add a few tablespoons of water to help steam and cook the vegetables.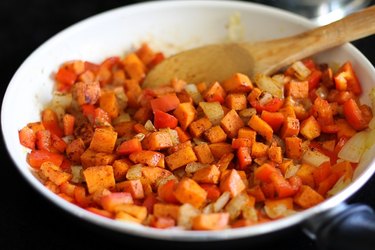 Add the spinach and black beans to the skillet. Cover and cook 2 to 3 minutes, until spinach is wilted.
Remove from heat, and set aside until ready to use.
Step 2: Prepare the Baking Dish
Heat the oven to 350 degrees F.
Pour about 1/4 to 1/3 cup of the enchilada sauce in the bottom of a 9-by-13-inch casserole dish, and spread evenly to coat the bottom.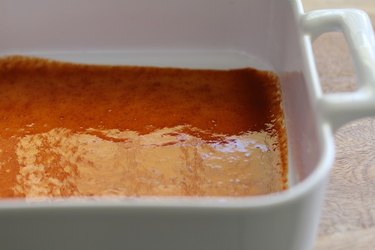 Step 3: Dip the Tortillas
Pour 1 cup of the enchilada sauce in a large-mouth bowl or deep plate. Dip both sides of a tortilla in the sauce, ensuring the whole tortilla is coated.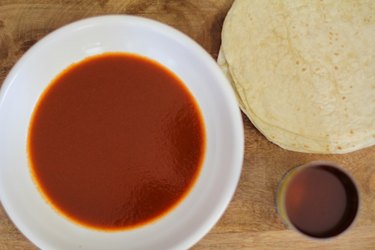 Step 4: Stuff the Tortillas
Add filling to the center of the sauce-coated tortilla, and then wrap the filling in the tortilla by rolling it up. Repeat the dipping and filling process with all of the tortillas.
Step 5: Transfer to the Casserole Dish
Place the stuffed tortillas in the prepared casserole dish. Make sure the tortillas are situated close together. Pour enchilada sauce over the stuffed tortillas, reserving a small amount of sauce for serving.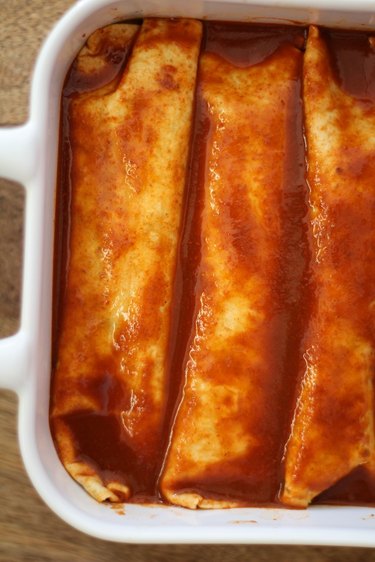 Sprinkle with cheese, and place on the center rack of the preheated oven.
Step 6: Bake
Bake Enchiladas for 20 to 30 minutes, until the cheese has melted and begins turning golden-brown.
Allow the enchiladas to cool slightly before serving with beans and rice.
Tip
Make this dish gluten-free by using corn tortillas instead of flour tortillas.
Substitute pepper jack cheese for cheddar, or experiment with other cheeses of choice.
You can replace the sweet potato with 2 large red potatoes if you prefer.