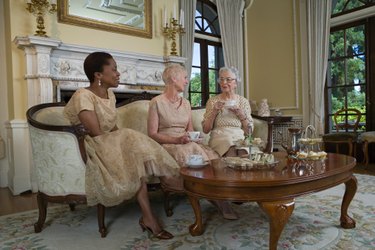 Whether you are hosting a tea party as a bridal shower, church gathering, fundraiser or just to spend some time with friends, favors provide a special touch to your elegant event. Choose from dainty snacks, practical pieces or luxurious gifts for at-home pampering. When possible, personalize favors with a color scheme, guests' initials or the name of the event. No matter your budget, a thoughtful favor lends added sophistication to any tea party.
Edible Treats
Bake or buy miniature cakes or cookies decorated to match your party's color scheme or theme. Wrap your goodies in clear cellophane, secure them with a tag or ribbon, and place one at each table setting. For homemade baked goods, attach a recipe card. Alternatively, provide other tea-themed treats, such as small tin boxes filled with gourmet tea bags. Use ribbon or lace to attach a honey spoon, cinnamon stick or rock candy stick to each favor for extra sweetness.
Practical Touches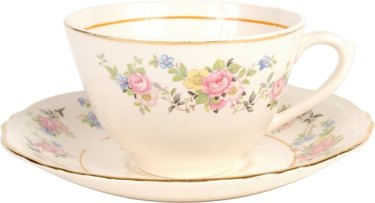 Give your guests favors that are both thoughtful and practical. Consider tea infusers, a teapot-shaped kitchen timer, a tea caddy or tea towels. When possible, purchase a variety of items and let guests choose which favors would be most handy for them at home. Alternatively, purchase elegant but inexpensive tea cups and saucers at garage sales or local antique and thrift stores. In each cup, place an organza favor bag filled with several differently flavored teas. Organize the cups and saucers into an attractive display, and allow guests to select a set as they leave. Provide gift bags or boxes so guests can protect their favors on the way home.
At-Home Pampering
Tea parties, which evoke images of delicately dressed ladies lunching, are times of relaxation. Help your friends take home that feeling by giving them old-fashioned pampering products. Wrap scented soaps in Victorian-themed prints or lace embellished with silk rosebuds. As an added touch, purchase pre-packaged uniquely shaped soaps, such as flowers or even teapot-shaped ones. Provide a lavender-scented sachet for use in a closet or dresser drawer or offer a set of bath salts. Add a whimiscal touch by attaching a Victorian fan or postcard to your favors.
Personalize Your Gifts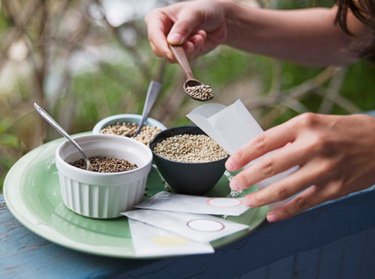 Create a more polished feel to your tea party by personalizing your favors. Whether you stick to soft pastel tones or more vibrant shades, select favors that match the colors and theme of your event. Create a personalized self-adhesive label or cardstock tag to attach to favors or order tea bags that arrive printed with the name and date of your event. For bridal showers, select tea bags that include a wedding theme or motto along with the couple's names.