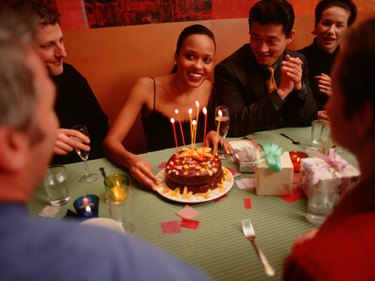 When hosting a party, you can book a party room at a restaurant. It is an ideal choice for convenience. You do not have to worry about the set-up, food preparation and cleanup. A number of restaurant chains are available for you to select from to accommodate a party of most sizes. You and your guests will have privacy in your own room and can celebrate and enjoy delicious food.
McCormick & Schmick's
McCormick & Schmick's is a national seafood restaurant primarily serving the Pacific Northwest of the United States. It has over 80 locations offering both private and semi-private spaces. Its setting is relaxed and casual. While it is a chain restaurant, no two locations have the same design. Each one seeks to incorporate the heritage and culture of the city it is located in. Each location also offers unique historic artwork. The menu is complete with fresh seafood varieties and aged steaks, poultry, entrée salads and pasta.
Hard Rock Cafe
The Hard Rock Cafe has locations throughout the United States and the rest of the world. Many spots offer private party rooms to host special occasions. The ambiance is relaxed and casual and entertainment memorabilia is available for view. The collection is rotated within the Hard Rock Cafe, so you can expect to see something new with each visit. Guests are also served classic American food. hard Rock's "Special Events" section of its website offers a search by location for details on booking party rooms.
Morton's The Steakhouse
Morton's The Steakhouse has over 75 locations, mostly in the United States. Its international locations include Toronto, Hong Kong, Macau, Shanghai, Mexico City and Singapore. Private dining rooms are offered for various occasions. Its setting is classy and its menu includes USDA prime-aged steak, seafood and a number of desserts. A wine list is also available, along with the restaurant's signature Mortini's. The restaurant also supplies A/V equipment and handles floral arrangements for your party needs.
Ruth's Chris Steakhouse
Ruth's Chris Steakhouse has more than 120 restaurants, including 12 franchisee-owned restaurants internationally, in Mexico, Hong Kong, Taiwan, Tokyo, Aruba, and Canada. The restaurant has been in business for over 45 years,as of 2011. Its setting is upscale, and private dining rooms of various sizes are available to accommodate your party. Its menu includes signature steaks, seafood and assortment of appetizers, soups, salads and desserts. Wine and cocktails are also served.