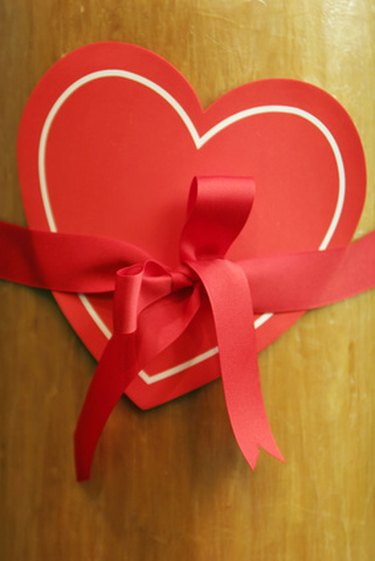 Valentine's Day has become so strongly associated with romantic love that sometimes we forget that the day can be an occasion to celebrate love of any kind. It's as good a time of year as any to remind your siblings how much you love them, but it can be hard to choose a Valentine's Day gift for a brother or sister, since many of the traditional gifts smack of romance. Take time to reflect on your relationship with your siblings and consider how they would most appreciate a demonstration of love.
Gift-in-a-Jar
A thoughtful gift you can make at home that has a personal touch is a Valentine's Day gift-in-a-jar. Find a clear glass jar and choose a recipe in which all the dry ingredients will fit in the jar. Print out a copy of the recipe and tie it onto the jar with ribbon; decorate the jar's lid with lace or a heart, too. Layer the dry ingredients for the recipe in the jar, starting with the ingredient of the largest amount, usually flour. Using cocoa and brown sugar in a recipe makes the jar look especially decorative because of the contrast in color. Choosing a family recipe will make this gift particularly special.
Candy-gram
You can still send the traditional gift of Valentine's Day candy to your siblings. A candy-gram with your brother or sister's favorite type of candy is a simple gesture that can convey a sweet message. Choose candy and make a platonic pun from the name, such as "You're worth 100 Grand" or "What a Sweetheart!" Write the message on a small piece of heavy paper or card stock and tape the candy bar to the card. Use a larger piece and make a longer sentiment, such as, "You're the best brother in the Milky Way!" and "Remember when we were Nerds and spent time Snickers-ing over our comic books?"
Favorite Foods or Nostalgic Treats
Nothing beats home-baked goodies for a Valentine's Day treat that says you care. Make truffles, cupcakes, pie or muffins for an I-love-you treat. Add a heart candy on the top for decoration. Instead of making baked goods the day before Valentine's Day, prepare something in advance that will keep, such as salsa or jam, if you don't want to spend all day in the kitchen on the 13th. If there was a special treat you and your siblings enjoyed when you were younger, such as Mom's brownies or a special snack mix, make a nostalgic treat to remind your siblings of the shared experiences growing up together.
Meaningful Message
Sometimes the most meaningful gift is a gift of words. Create your own card from scrapbook paper or construction paper and embellish with borders or lace if desired. Use a blank greeting card if you aren't the crafty type. Most importantly, fill the card with a thoughtful message explaining how much you care about your sibling. If you have trouble finding the right words, search for a quote or a famous saying to include.