It's no secret that Valentine's Day is known for boxed chocolate and conversation hearts. Both treats are tasty, but if we're being honest, sweet treats aren't for everyone. So why not make a batch of homemade cinnamon heart lollipops? This project is perfect for fans of zesty, spicy flavors. The best part is that it uses store-bought candy, so you won't need to make anything from scratch. Once Valentine's Day rolls around, these DIY lollipops can be gifted individually or bunched together like a bouquet.
Things You'll Need
Silicone heart lollipop mold

Lollipop sticks

Cinnamon Jolly Ranchers

Resealable plastic bag

Hammer

Star sprinkles and icing (optional)

Edible glitter flakes and maple syrup (optional)
Tip
Silicone lollipop molds and lollipop sticks can be found in the candy section of your local craft store. If the retailer doesn't have heart-shaped molds, check eBay or Amazon.
Making a large batch of lollipops? Consider purchasing multiple molds.
Step 1
Unwrap the Jolly Ranchers. Place them in the plastic bag and seal it shut.
Pre-heat the oven to 275 degrees Fahrenheit.
Step 2
With the hammer, smash the Jolly Ranchers to break them apart.
Warning
Head outside and do this step on your driveway or sidewalk. The force of the hammer can break tile, so avoid counter tops and floors.
Aim for a mix of small and big chunks; the pieces don't have to be super tiny.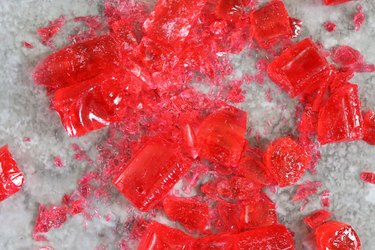 Step 3
Fill the heart mold with crushed Jolly Ranchers. Don't worry about filling every nook and cranny because the candy will melt into the shape. You'll also be adding more candy later on.
Place the mold in the oven for 5 to 7 minutes, or until the pieces have completely melted into whole hearts.
Step 4
Place the lollipop sticks into the mold. Slightly rotate and roll each one to cover the end with melted candy, but make sure it stays in the groove.
Step 5
Add more crushed candy until the cavity is full. Return to the oven for another 5 to 7 minutes, or until the additional candy has completely melted.
Step 6
Let cool for at least 25 minutes.
Once set, the lollipops will pop right out.
Step 7
For an emoji-inspired version, stick 2 star-shaped sprinkles to a finished lollipop. Ordinary canned icing works great as "glue", while a toothpick is useful for application.
Step 8
You can also add edible glitter flakes for some sparkle and shine. Apply a thin layer of maple syrup on each lollipop, then sprinkle the flakes on to the lollipop. Leave to dry.
To gift your homemade heart lollipops, wrap each one in a cellophane bag and tie it off with a ribbon. Feel free to make it extra special with a personalized note or card.