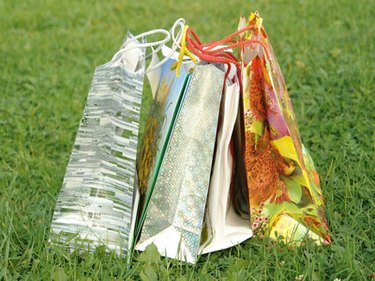 Family reunions are filled with food, laughter and conversation. To add to the festivities, consider putting together loot bags to give to each guest. The items in each bag don't need to cost a fortune. If you're on a budget, search online for bulk deals, make things yourself or purchase items from a dollar or discount store.
Photo Frames
Purchase photo frames that say "Family" or "Family Reunion." You can put one frame in each gift bag for people to put a family reunion photo in later, or you can place a group shot in the frame from a previous reunion. When shopping for frames, check online for bulk rates. Alternatively, if you have a disk of family photos from a previous reunion, you can make copies of the disk and put one in each bag.
Phone Books
Purchase phone books from the dollar store and write the phone numbers, home addresses and email addresses of each family member inside. This will allow family members who have lost touch to reconnect and provide a mailing list for Christmas cards and other events.
Hats, T-Shirts or Tote Bags
Order custom-made hats, T-shirts or tote bags with your family name on them, and the date of the reunion. These items can be purchased in bulk online. Or, buy key chains printed with the name of your family or with a family photo printed on them.
Baked Goods
Bake an item (or several items) that you consider your specialty. Then wrap up individual portion sizes and attach a card to each portion with the recipe and any variations. If you are making several different items, you can print the recipes on a sheet of paper and include the paper in the gift bag.
Something Fun
Just like loot bags given to children at birthday parties are filled with toys, no family reunion gift bag is complete without something fun to play with. Examples include small water guns, jigsaw puzzles, joke books, stress balls, light-up pens, yo-yo's and bobble heads.