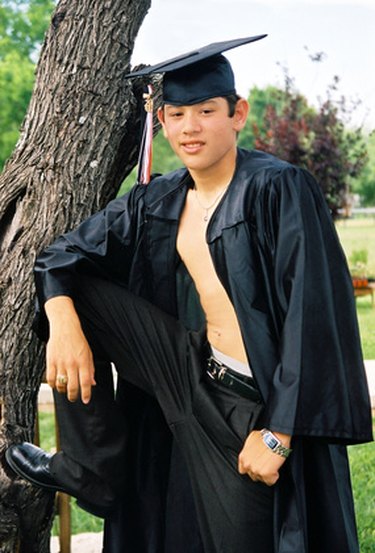 In areas where high school begins at Grade 9, students will have a graduation ceremony from either junior high or middle school once they have successfully completed the eighth grade. Before purchasing a gift you should decide if it is a gift to commemorate the day or a gift of accomplishment.
"Class of" Gift
Every year companies manufacture items for graduates that include the phrase, "Class of (insert year)". Anything from stuffed animals, mugs, picture frames, scrapbooks and key chains to jewelry. These are commemorative gifts that your child can have to remember the special occasion. Depending on the gift and where you purchase it, sometimes you can get the item personalized or engraved. If you are purchasing a picture frame you could add his name or the school name or mascot to a photo album cover.
Scrapbook
Homemade gifts can be just as meaningful if not more than a store-bought gift. If you or your child is interested in scrapbooking create one yourself and give it as a gift or give an empty one to your child to be an activity to do together. Purchase a scrapbook in the school color and you can decorate the cover with a mortar board, graduation year, student and school name or an image of the school mascot. You can fill the book with photos of friends, teachers, the ceremony, a copy of the valedictorian speech, school ID, class trip photos, athletic awards, diploma and anything else that is important to you.
Jewelry
Jewelry is a traditional gift for graduates. A piece of jewelry is gift of accomplishment but can also be a commemorative gift if you choose to engrave the piece. Pick from a necklace, locket, bracelet, ring or earring for a girl, a watch, pocket watch or chain for a boy or a class ring, where available, for either gender. A piece of jewelry is thought of as a more mature gift, which will show that you are acknowledging your child's maturity. You can choose to engrave it to say words of encouragement like "Congratulations," "We love you," "We are proud of you" or "(Year) grad."
Luxury Item
A luxury item could be something your graduate has been wanting for a while and shows you are acknowledging all of her hard work and dedication. Technology items like a new computer, laptop, MP3 player or television are popular choices among children. If the child prefers live entertainment, treat her and a friend or two to a concert, sporting event, theater show, ballet or amusement park. The grandeur of the gift is a praise for her hard work and allows her to relax before heading into high school.