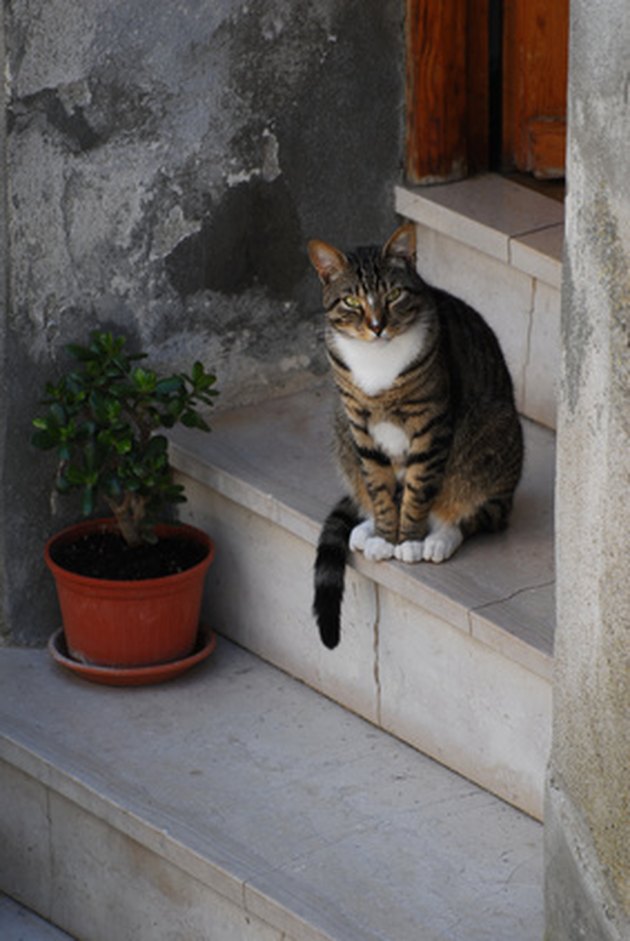 Indoors or out, steps leading to and from a garage are an often-neglected feature of the home. Steps present several structure, safety and style needs, and the options are vast. Interior garage steps that lead inside the home may be short or tall, depending on the design of the home. Exterior garage steps are usually shorter runs, but they require extra attention and care to prevent damage from the elements.
Materials
For a natural look, treated wood decking materials are available with preformed stringers, which are the zig-zag-shaped foundation of steps, in different heights. Allowed to age naturally, treated wood develops a silvery patina. Sealed, it retains its natural color. Prefabricated concrete steps are a sturdy choice, and you don't need special tools or experience. You will need help moving and setting them in place. Concrete is sturdy enough to accept embellishment, such as covering with tiles or stone. Metal steps lend an industrial or utilitarian look. Some metal stair treads are covered with small openings that allow drainage from wet shoes.
Non-Skid Surface
Non-skid surfaces are important in wet weather and in work garages where slippery substances can create a hazard. Mix sand into floor or garage floor-grade paint to give steps a rough surface that helps grip shoes, suggests Popular Mechanics. Textured, adhesive tread pads also aid with traction, and some have reflective strips that help you find your way in a dark garage or outside at night. Full tread covers fit like caps over stair treads, and most have textures like a tire's tread.
Hand Rails
Hand rails add another measure of safety. Plain, galvanized metal rails affixed to a wall with metal brackets are strong. Wooden hand rails complete with the upright newel posts and balusters are stylish, yet still sturdy. Decorative options abound for hand rails, including fancy wrought iron and copper. If the steps rise along a wall, add a handrail on the outside edge of the steps. If they are freestanding, use a handrail with newel posts and balusters on each side, advises the National Association of Mutual Insurance Companies.
Grime Control
Garages are work areas, where mechanical repairs are performed and yard work concludes. This often means messy shoes covered with grease, mud, snow or grass clippings. Add a large tray filled with crushed stone by the steps and leave shoes on the tray to drain. A rough-bristled mat for scraping off shoes or boots also helps keep dirt out of the house.
Extra Storage
The area beneath is often overlooked for extra storage, especially with shorter runs of steps. Outdoors, enclose the area under the steps and add a small, hinged door on the side. Keep inexpensive yard tools like gardening gloves, small shovels or pruners, sunscreen and a hat under the steps. If your steps are inside the garage and taller, the area underneath can store a tool cart, bicycles on hooks or rainy-weather outerwear.