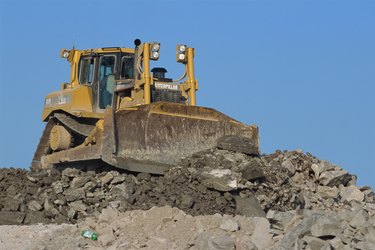 The John Deere 325 skid steer loader was part of the company's line of midsized construction loaders. This line included five loaders ranging in horsepower from about 60 to 85 hp. The model 325 was the middle unit in the line with a 70 hp engine. It was the smallest of the skid steers to offer the optional joystick control designed to reduce operator exertion. It also offered a full climate controlled operator cab and could be used with a variety of attachments.
Engine
The John Deere 325 skid steer is powered by a diesel 70 hp John Deere engine. The five-cylinder engine is turbocharged and operates at 2,800 rpm with a displacement of 186 cubic inches. The skid steer carries a 24 gallon fuel tank.
Physical Size
The model 325 is 11 feet 5 inches long with the standard bucket and roughly 2 feet shorter without. The skid steer is just over 6 feet wide and 6 feet 7 inches tall at the top of the roll over protection cab and has 9 inches of ground clearance. The wheelbase is 48 inches.
Loader
The John Deere 325 skid steer is rated with a 2,500 lb. loader capacity and a standard bucket capacity of 0.65 cubic yards. The loader's tipping weight, the bucket load that will cause the skid steer to tip forward, is 5,000 pounds. The maximum lift height without a bucket is 9 feet 6 inches while it can lift and dump a bucket to 8 feet 3 inches.
Hydraulics
The model 325 offers a 22 gallon per minute standard hydraulic flow with a high-flow option of 34 gpm. The hydraulic system maintains a pressure of 3,100 pounds per square inch at the couplers. The standard hydraulic system is rated at 40 hp with a 63 hp rating for the high flow option.
Operator's Position
The cab or operators position comes standard with adjustable arm and foot rests, roll over protection seat belt, dome light, cargo net and beverage holder. Optionally the skid steer can be equipped with a completely enclosed cab with noise suppression and air conditioner and heater system.