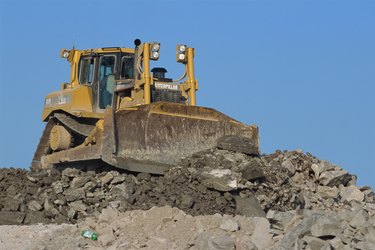 Versatile and often seen on construction sites, a skid steer is a relatively small tracked or four-wheeled vehicle with lift arms attached to buckets, trenchers and stump grinders. These machines have rigid frames, engines, lift arms and either four wheels or tracks. Although homeowners don't generally own skid steers, it is possible to rent them for projects, and they are great labor-saving devices. You might be familiar with several companies that manufacture them, such as Bobcat, Caterpillar and John Deere.
Skid steers are also called skid-steer loaders and skid loaders. They usually have front and back wheels on each side. These are linked together mechanically to turn at the same speeds, but the left-side drive wheels may work independently of the right ones. That's because they have two independent transmissions. Skid steer wheels do not turn, so the driver has to increase the wheel speed on one side. This process makes the wheels skid along the ground as the machine rotates, which is where the "skid steer" name originates.
Skid steers with wheels work best on flat, even ground, while ones with tracks are the better choice when surfaces are snowy, sandy, wet, muddy and uneven. You can attach snow tires to skid steers with wheels, but the tracks are easier to maneuver in these conditions. A bucket is the standard attachment for a skid steer, but you can replace it with many others.
Skid steers come in different sizes for a variety of jobs. Small ones generally weigh up to 1,750 pounds and have up to 50 horsepower. Medium models weigh from 1,750 to 2,200 pounds and have 50 to 70 horsepower. The largest ones are up to 2,200 pounds with a horsepower of 70 and up. The smaller ones are good for landscaping and interior spaces, while the medium skid steers can perform heavier tasks in small spaces. The largest and most powerful ones are usually reserved for excavation and demolition.
Before renting a skid steer, you'll want to know all the dimensions, especially if you need to use it in a small space. You can find much of this information online, and one example of this is the John Deere 325 specifications, which also include accompanying diagrams. This diagram shows ground clearance, length with and without the bucket and details about the engine, including the number of cylinders (five). It also shows a weight of 8,390 pounds, an operating voltage of 12 V and a bucket capacity of 0.7 cubic yards.
Changing Skid Steer Attachments
Newer skid steers have quick attachment systems that you can operate from the inside of the vehicles, and older ones may have manual systems. For the first kind, move the skid steer to a spacious area and check the current attachment to make sure that there is no debris in it. Inside the cabin, push the release button on the panel and put the skid steer in reverse. The mounting plate should then release the attachment for you.
Next, align the mounting plate with the new attachment and let it slide into the attachment's saddle. Steer the machine's arms into the attachment's mounting plate until it locks and then press the skid steer's engagement button to lock everything into place.
With manual attachments, you'll have to locate the lock pins on the outside of the current attachment. Remove these, reenter the cab and tilt the skid steer until the mounting plate comes off. The new attachment must be secured manually, properly aligned and set into place with its lock pins.