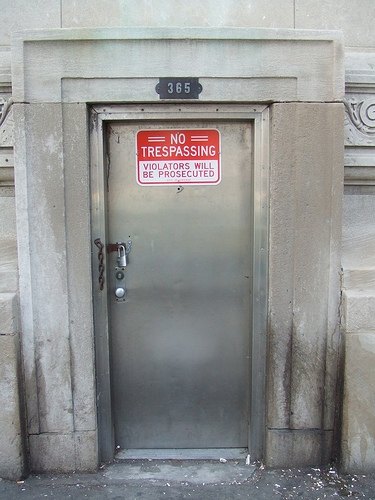 Commercial doors are used in commercial buildings like schools, stores and office buildings. They are typically built more durably than residential doors, which allows them to withstand high levels of traffic and abuse. Commercial doors are also subject to more stringent building code requirements, including those aimed at safe egress, fire protection and accessibility for the disabled.
Wood doors are made from thin sheets of wood veneer wrapped around a solid composite core. The core may be made from particle board, solid lumber or pressed mineral products like perlite and vermiculite. Wood doors are typically only used on interior commercial applications, as they tend to fail when exposed to moisture or outdoor weather conditions. Wood is primarily chosen for its rich appearance, and is not as durable or secure as other door materials.
Hollow metal doors are made from sheets that are steel wrapped around some form of core. Though they are referred to as "hollow," they actually contain either foam insulation, steel stiffeners or a resinous honeycombed core. These doors are the standard material for most exterior commercial doors. They offer a high level of security and are long-lasting and cost effective. Steel doors may be used on the interior of a building in mechanical rooms or other heavy-duty applications.
Doors made from aluminum and glass are frequently used at entrance ways in commercial structures. They are chosen primarily for the clean, sleek look of the aluminum, but also because they allow natural light to shine into the building. These doors are fairly low-maintenance because they do not require painting or staining like metal or wood. While other commercial doors are installed in steel frames, these doors are installed in aluminum frames, which have a slightly different profile than other units. Aluminum assemblies can usually only be fire-rated up to one hour, which may not meet some building codes.
Fiberglass doors are some of the most durable and long-lasting options for commercial openings. They require little to no maintenance and will generally outlast steel and wood doors, especially on high abuse applications. Many school districts use fiberglass doors to reduce replacement and maintenance costs in the long-term. Fiberglass units are often more costly than other materials.
Full glass doors are used primarily on interior applications due to their decorative appearance. They allow large amounts of light to pass through, and help make a building appear more open. These doors are made from safety glass so that there is a reduced risk of injury if the door is broken. Most glass doors are hung on pivots, and may be hung with or without a frame. Glass doors are usually not fire-rated.
Overhead doors are made from sheets of steel. They are used at loading docks and manufacturing facilities to allow large objects to be brought into the building. These doors are often 8 to 10 ft. wide, and can be built to any height. Overhead doors coil up towards the ceiling like a garage door, and may be manually or automatically operated.