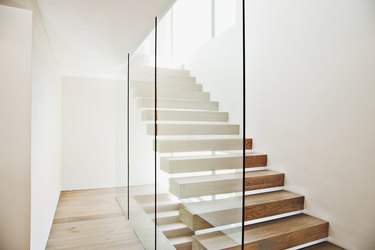 The building codes that California uses are based on those found in the Uniform Building Code, or UBC, instituted in 1927. UBC standards for stairs cover many aspects of stair and handrail design and installation, including those required by the Americans with Disabilities Act of 1990 and subsequent revisions of the UBC.
UBC Basis for California Stair Codes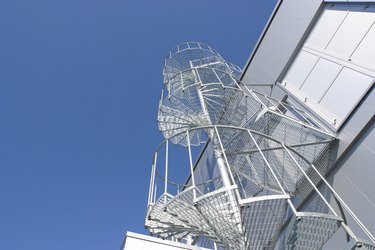 The UBC was officially retired in 1997 when all model codes were combined into the International Building Code. But the UBC's codes related to stairs continue to be the basis for California stair codes. The UBC stair codes applied to both residential and commercial stairs. Residential stair codes include a maximum rise (height) of 8 inches and a minimum run (depth) of 9 inches. Commercial stairs have a maximum rise of 7 inches and a minimum run of 11 inches.
Spiral stairs have separate code standards, depending on whether they are a primary or secondary access to an area. Primary-access spiral stairs may service only an area that is less than 400 square feet, but secondary-access spiral stairs have no such limitation. The standard number of required stairs in a spiral design is 12, with an acceptable rise of between 8 7/8 inches and 9 1/2 inches.
California Building Codes for Stairs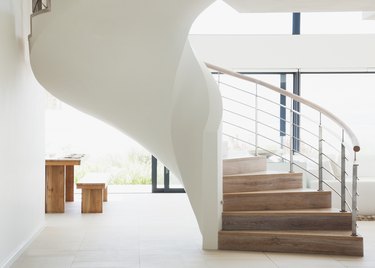 California stair codes have changed over the years as new construction designs and consumer needs affect legislative policies. The stair codes from the 2008 version of the California Building Code state that private stairways must be at least 36 inches wide. Trim and handrail components may not encroach on this minimum dimension by more than 3 1/2 inches. The rise must be between 4 and 8 inches, with a minimum run of 9 inches. The differential between the smallest and largest dimension in any of these components must not exceed 3/8 inch.
All stairways must have a minimum headroom clearance of 6 feet, 8 inches, measured from the edge (nose) of any riser to the soffit directly above it. Any usable enclosed space below the stairway must include an enclosing wall that uses a minimum 5/8-inch type X gypsum wallboard.
Hand and Guard Rails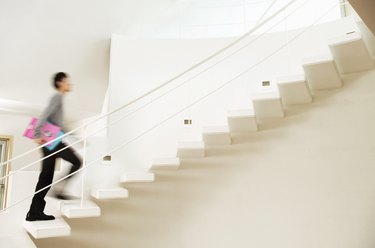 The purpose of hand and guard rails is to provide security for people using a stairway. UBC requirements for these components, adopted by the CBC standards, state that all stairways must have rails on both sides. (Handrails are the rail next to the wall, and guardrails are the outer rail.) All rails must run continuously for the length of the stairway at a minimum of 34 inches and a maximum of 38 inches above the stairs (treads). Rails must extend 12 inches past the top and bottom tread. Hand grip requirements are stated as cross-dimensions. UBC stair codes in California require grip areas to be between 1 1/4 and 2 inches in cross-dimension. However, ADA requirements change these cross-dimensions to 1 1/4 and 1 1/2 inches, respectively. Rails must have a smooth surface with no sharp edges.