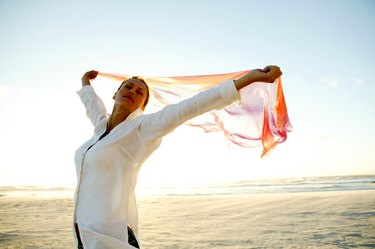 Available either plain or printed, voile fabric is ideal for special occasion shirts, dresses and children's garments, as well as sundresses and casual wear. Because it drapes well, voile is also suitable for luxurious curtains and draperies. Originally, made from silk or wool, newer voile is made of cotton. While the fabric shares many common characteristics with cotton, cotton voile is softer, lighter and features a sheer, airy quality. But the crisp, gauzy fabric has its drawbacks.
Sheer and Revealing
Cotton voile is lightweight, comfortable on the skin and drapes beautifully, but the fabric's filmy quality is often undesirable. The gauzy, semi-sheer fabric is fine for lingerie or sheer curtains, but because the fabric is thin and see-through, it is usually too revealing for blouses, skirts and dresses. Although you can wear a cotton voile blouse over a camisole, most garments require underlining or layering.
Uncomfortable When Wet
Cotton voile's superior breathability makes the fabric cool and comfortable during warm weather. However, like all cotton fabrics, cotton voile absorbs water, and becomes cumbersome and uncomfortable when wet. Cotton voile also lacks elasticity and wrinkles easily. When stretched, it often fails to return to its original size and shape. Cotton voile is not a good choice for children's pajamas. Because the natural fibers are loosely woven, the fabric burns quickly.
Shrinks and Wrinkles
Hand-washing and air-drying are often necessary to maintain the shape of cotton voile garments and extend the life of the fabric. Although you can machine wash cotton voile in lukewarm water and dry the fabric on low heat, beware of high temperatures that can shrink the fabric, especially cotton voile that hasn't been preshrunk. Wash the fabric with like colors because the dyes may bleed onto lighter fabrics. Use oxygenated or color-safe bleach for badly soiled garments and never use chlorine bleach. Although cotton voile wrinkles badly, the fabric stands up to pressing with a hot iron set on a steam setting. Spray starch restores the crispy feel and appearance of the fabric.
Challenging to Sew
Sewing cotton voile requires special techniques to prevent raveling and shrinkage. Cut the fabric with a rotary cutter or sharp scissors, then stay-stitch all curves after cutting the fabric to add stability. Mark the fabric with a light-colored marker and sew the fabric with a new, sharp needle. To prevent shrinkage, wash the fabric twice and dry it in a warm dryer at least once, even if you plan to hand-wash and air dry the fabric.