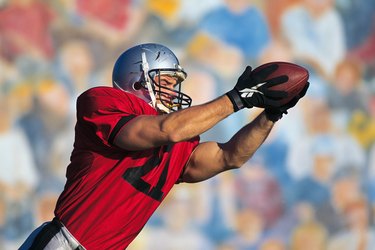 While football tickets may sit at the top of his Christmas list, giving the tickets in a creative fashion makes the gift that much more meaningful and notable. By building anticipation or completely surprising him, you can create a gift-giving experience that remains more memorable than the actual game itself.
DVD
Use a simple movie-making computer program to create a DVD for the gift-giving occasion. Wrap the DVD and attach a note telling the recipient to watch the video right away. When making the DVD, search online and include clips of iconic and historic moments from the team's history, such as record-breaking plays, revered players in action or championship victories. End the film with a written message scrolling across the screen stating that the recipient will soon witness moments like these in person. Include the date and start time of the ticketed game.
Gift Basket
Make a gift basket featuring items related to the football team. Use a tin ice bucket, complete with the team's logo, as the base. Fill the tub with team-themed T-shirts, books, stationary, DVDs, bottle openers, baseball caps, bumper stickers, towels and mugs. Hide the tickets inside the pocket of the T-shirt or around the inside brim of the cap. You can also place the tickets in the clear plastic sleeve of a lanyard outfitted with a team logo-covered strap.
Treasure Hunt
Send the recipient on a small treasure hunt for the football tickets. Draw up a treasure map on parchment paper with distressed edges, roll it into a scroll and wrap it in a treasure chest found at most party supply stores. If logistically possible, leave a handful of clues around the area, ending the hunt at the team's home stadium. Present him with the tickets while at the stadium. Travel with the recipient during the treasure hunt to ensure he does not get lost or confused. If such a treasure hunt is not possible, plan one around the house and/or backyard, featuring clues in different rooms.
Christmas Tree
Wrap a small box using ribbons with the same color as the football team's colors. Inside the box, place a Christmas tree ornament with the football team's logo. Tell the recipient to hang the ornament on an area of the Christmas tree denoted with the same color ribbon. Place the ribbon at the back of the tree so the gift recipient does not see it prior to this moment. Lay the tickets inside the tree, attached via the ribbon. When he removes the ribbon to hang the ornament, the recipient will discover the football tickets.