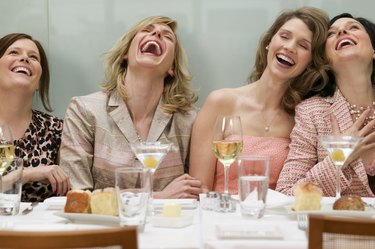 Whether you're planning a ladies' luncheon for a baby or wedding shower, a holiday, or simply to bring together a group of friends, choosing a theme can make the event memorable for your guests. Possibilities for themes are limited only by your imagination, but traditional themes for a springtime ladies' luncheon often include pastel colors, light menu choices, and whimsical or delicate decorations.
Seasonal Themes
One approach to planning your luncheon is to focus on the season as a source for your theme. A garden theme could showcase spring flowers, such as daffodils and lilacs, with centerpieces and party favors using colorful watering cans, gardening tools and flower seed packets. The springtime return of songbirds could be the inspiration for your theme, with feathers, bird's nests and eggshell blue decorations. You could also plan a rainy day-themed party with umbrellas and colorful galoshes.
Regional Themes
When you choose a regional party theme, you have the opportunity to transport your guests to faraway places with your menu and decor. The Martha Stewart website describes a French countryside-themed party with a buffet of light French foods, such as potato-leek soup and madeleines, with embroidered linens and dainty floral decorations. Whether you choose authentic regional recipes and decorations or employ regional influences into your own style, a regional theme can be a welcome escape from the ordinary.
Pop Culture Themes
Choosing a theme based in pop culture can be a playful way to create a visual style for your event. Choose a book, television show, or film as the theme of your event and base your decorations and menu items on your choice. These themes can be playful; for example, choose a beloved children's book as your theme or something more sophisticated. Creating a theme around a classic Hollywood film can inspire elegant decorations and glamorous attire.
Historical Themes
Choosing a point in time as your reference for a theme can allow your guests to share in a collective sense of nostalgia or history. If your event has a guest of honor, making the decade of her birth or her teen years could be a fun way to reconnect with the past. Vintage shops and thrift stores can provide decorations, and playing the popular music of the day can recreate the mood of the times.