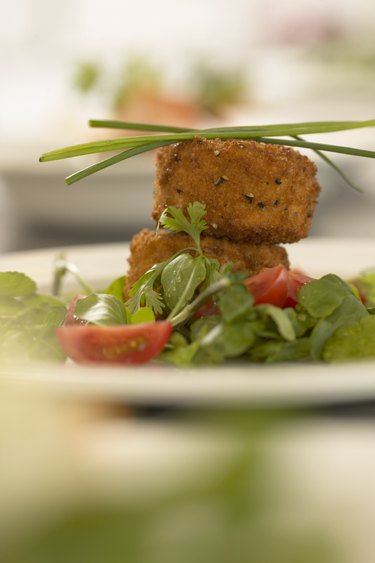 Salmon cakes are a comforting, yet relatively simple dinner option. All you need is a few cans of salmon or your leftover salmon from last night's meal. But what if you're out of breadcrumbs? You can make your own breadcrumbs in a food processor, or substitute in something unexpected.
Rice
Give your salmon cakes a healthy update by using rice instead of breadcrumbs. Brown rice will make the meal especially nutritious, but you can use any kind of rice you like. If possible, use day-old rice; it contains less moisture, making it more suitable for frying. Mash the rice before combining it with the remaining ingredients to help the patties stick together and give the finished cakes an even consistency.
Potatoes
Potatoes and salmon make a great pair and potato is used to make fish cakes almost as commonly as bread crumbs. Peel and boil two large potatoes as though you were making mashed potatoes. Drain the potatoes and process them with a potato ricer or masher. This should yield about 2 cups of potatoes, perfect for making one batch of salmon cakes. Substitute the potatoes for breadcrumbs at a one-to-one ratio.
Crackers
Crackers are perhaps the most common substitution for bread crumbs when it comes to fish cakes. In fact, you can substitute crackers for breadcrumbs in a number of dishes, including casserole, stuffing and to coat meat, fish and vegetables before frying. Simply place the crackers in a zip-top plastic and crush them with a rolling pin. For every 1 cup of breadcrumbs the recipe calls for, use only 3/4 cup of crushed crackers.
Corn Meal
Corn meal is an excellent substitute for dry breadcrumbs, especially for those with gluten allergies. Finely ground cornmeal is acceptable, but coarser varieties imitate the texture of breadcrumbs more effectively. Check grocery stores for a uncooked polenta, which is a very coarsely ground cornmeal. Cornmeal has very little flavor on its own, so season your salmon cake mixture with salt, herbs and spices before forming it into patties. Substitute cornmeal for breadcrumbs at a one-to-one ratio.