Thought as radical for its time, the legendary female buddy 1991 movie "Thelma and Louise" broke down old stereotypes and showed everyone just how tough women could be. These two brave characters set a new standard for cinema, and a Thelma and Louise costume is an excellent idea for two female friends for Halloween. It is very easy to assemble and inexpensive too, plus you likely have most of the supplies already on hand.
Thelma and Louise Halloween Costumes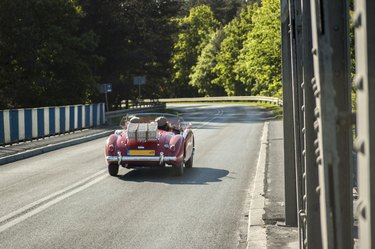 One of the most well-known movie stills from the Thelma and Louise movie, which starred Geena Davis and Susan Sarandon, shows them wearing the most famous Thelma and Louise outfits, and it makes sense to copy these as closely as possible. Thelma (Geena Davis) is wearing a black, sleeveless muscle shirt emblazoned with a picture of a skull head wearing aviator sunglasses and a confederate flag bandanna. In the movie, the shirt was stolen from her boy toy who dissed her (played by a young Brad Pitt), and she has it knotted at her waist. Davis also has on light wash jeans and dark sunglasses, and her red, wavy hair is pulled back in a messy ponytail.
Louise (Susan Sarandon) wears a white sleeveless muscle shirt, darker jeans and a light blue bandana tied around her neck like a choker. She also wears a white cowboy hat, with a string for it hanging down her neck and her light reddish-brown hair reaches her shoulders. Louise also drove a 1966 Ford Thunderbird convertible, and liked wearing a scarf around her hair when behind the wheel. In another famous picture, Sarandon has on brown-rimmed cat eye sunglasses; both ladies are wearing bright red lipstick and Thelma sports lavender eyeshadow.
Thelma and Louise Hair and Accessories
These tough ladies usually wore their hair messy and wavy, so you can curl yours and brush it out a bit or put it up in a loose ponytail. Since these two spent so much time on the road, you might want to dirty up your clothes and face a little bit to look more authentic.
It's also not a bad idea to write their first names on your shirts. Alternatively, you can even buy inexpensive name necklaces.
Thelma and Louise Toddler Costumes
Imagine how adorable your little ones will look dressed up in Thelma and Louise costumes! It's perfect if you have two little ones who need to dress up for an occasion. Since both movie stars had thick, beautiful hair, you might want to get a couple of inexpensive children's wigs – one with red hair and one with brownish-red hair.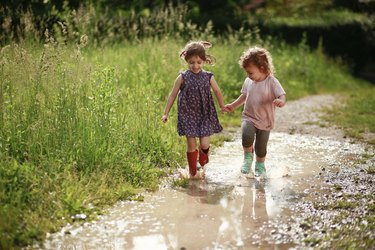 If you write the characters' names on their shirts, just make sure that Thelma's shirt is black and Louise's is white. These girls also have on denim jackets, ripped jeans and cute little cowboy boots. The finishing touches are dark sunglasses and bandanas tied around their necks. Websites like Etsy sell Thelma and Louise t-shirts, but it might be harder to find toddler sizes.