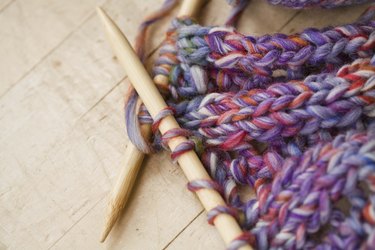 Knitting can be done using only knitting needles, or it can be completed on a loom. Looms have a series of pegs around which yarn is wrapped to create loops. These loops are then pulled through one another in a pattern according to the knitting technique being used. Knitting looms are sold in several shapes, each designed for a different use. Round looms and long looms are the most common, but specialty looms are also available for making items such as knit flowers and spools.
Similarities
Both long and round looms use various knitting techniques and weaves to knit items from yarn. You can knit anything you can make on a round loom on a long loom and vice versa. The same knits can be used, only with slightly different starting and casting off techniques. In this way, the looms are very similar.
Differences
Round looms are typically used for enclosed, circular projects such as hats and bags. In addition, they can be used as a long loom would be by only knitting from one point to another instead of in a circle. This technique can be used to make scarves. Round looms, however, are typically not large enough to make blankets in this manner. For some, it may also be easier to make scarves on a long loom because they are specifically designed to be used for making strips of knitting and you will not have to worry about skipping pegs on a long loom.
Sizes
Long looms and round looms are both available in a variety of sizes, and the size selected depends mostly on the project that is being made. A small round loom would be used for socks or gloves, and would be slightly smaller than the loom used for a baby's hat. A longer long loom would be used more for an afghan than for a scarf, in order to reduce the number of seams in the afghan.
Patterns
Patterns are widely available for both long looms and round looms. They can be found in books or online. Several patterns are also usually included with the loom if it is purchased as a kit. There are websites that specialize in patterns for specific looms, such as the Knifty Knitter, but these patterns can typically be generalized for most looms.