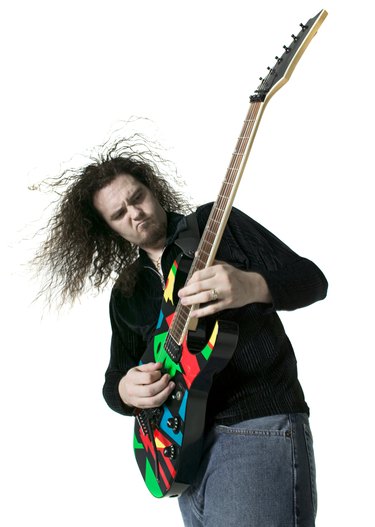 Rock stars just seem to have a one-of-a-kind look that is all their own. Sometimes flashy and over the top, the look of a rocker, whether male or female, is all in the wardrobe, color choices and the extra add-ons that make the look believable.
Styles for Men
If you want to look like a true rock and roller, think dark colors when choosing a wardrobe. Rockers tend to wear a lot of black, both onstage and off. For men, you can achieve the look with either darker gray or black jeans coupled with either a black or vintage band T-shirt. Top the look off with a dark-colored denim jacket. Skipping a haircut and shave can also add to the rocker look.
Styles for Women
Female rockers can be creative with their costumes, and like many top female stars, the wilder the look, the better. Lady rockers wear a lot of short skirts or baby doll dresses, often coupled with colored leggings and heels or boots. Like their male counterparts, rocker chicks can also be seen wearing black wardrobes. Don't forget to go extra heavy on the makeup, especially the eyes and lips.
Leather
If the weather is cooler, both men and women can perfect their rocker look by adding dark or black leather items to their wardrobe. For guys perfecting the rocker look, leather pants with hanging chains and biker jackets can create a rock and roll impression. Female rockers-to-be can have a little more choice, choosing from either a tight-fitting pair of leather slacks or a short leather mini-skirt.
Accessories
Do not forget to accessorize to put the finishing touches on your new rocker look. Male rockers can often be seen with large rings, chains and other necklaces. Female rockers also wear these items, in addition to wide cuff bracelets and big circular-shaped earrings. Other pieces for rocker jewelry include beads, crosses and skulls. Both male and female rockers are prone to wearing scarves, often just hanging and untied around the neck. To get an even better effect, try on a temporary tattoo.