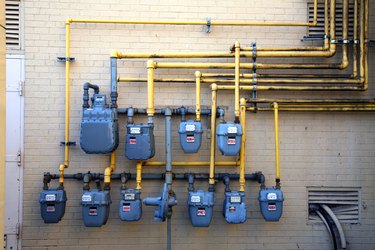 A plumbing ferrule is a type of cap widely used in pipe and fixture joints to create a tight compression fitting. These special connectors can prevent gas and water leaks when properly installed. You can actually replace these ferrules in your house plumbing system yourself, with a few common tools, if you know how to select and install the right cap for your specific repair job.
Ferrule Types
You can find ferrules in various sizes and made of different materials to use on water, gas and other systems that require a sealed joint. A ferrule may come in universal or specific sizes. Ferrules made out of rubber, plastic, nylon, brass, or copper are common in plumbing systems, household fixtures and even sports equipment.
Selecting the Right Ferrule
When choosing the ferrule for your repair job, keep these several points in mind. First, ensure that the ferrule material is compatible with the fitting and tubing you are using it for. Secondly, the ferrule should stand the correct temperatures it will be exposed to and if you need to fasten and unfasten the connection, the ferrule should be able to withstand multiple disconnections without distorting. Finally, the ferrule should be of the correct diameter to create a perfect seal.
Leak-Free Compression Fittings
Creating a leak-free compression fit may seem tricky at first time. To succeed the first time, you'll need to ensure the pipe or tubing you will be using the ferrule on is completely clean and has a smooth surface. You need to hold the ferrule while fitting the nut in the correct position when tightening. Also, always use a new ferrule for the job unless the manufacturer specifies you can reuse an old cap.
Installing a Ferrule
Remove the old ferrule with a ferrule puller, if necessary. Clean the pipe and fitting connections to ensure a proper seal and ensure both surfaces have no scratches on them. Place the ferrule and nut over the pipe you are connecting. Place the pipe against the fitting in the correct position and tighten the nut with a flare wrench as you hold the body of the fitting with another wrench.