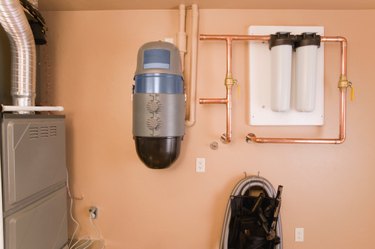 Furnaces can be powered by oil and gas and typically have a lifespan of about 18 years. Once a furnace has reached the end of its useful life, it can pose a fire hazard; for safety's sake, it's best to get rid of it. Most states have specific regulations concerning the proper disposal of old furnaces, because they are considered hazardous materials after combusting fuel for many years.
Step 1
Remove any debris or stored items around the old furnace. Old furniture, tools and any other "clutter" that is in the immediate area around the old furnace must be removed.
Step 2
Clear a pathway to remove the old furnace. Ensure there is enough room to accommodate moving it outside (as well as room for the two people moving it) from the point where the furnace is located to where it is to be picked up and taken away.
Step 3
Find a hazardous materials or furnace removal service in your local phone book. Phone the hazardous materials or furnace removal service and schedule a day and time to have them come and remove your old furnace.