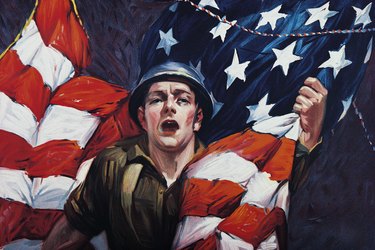 Brass instruments, swing dancing and patriotism all come to mind when thinking of the 1940s and the Big Band era. It was a time of loud music as well as energetic and intricate dance moves. Therefore, a dance hall is the ideal setting for a Big Band party. To complete your Big Band-themed event, you need to select a band, which interpretation of the era you want to use and a list of ideas for appropriate decorations.
Americana
To achieve an Americana decoration theme, simply focus on red, white and blue. Collect Fourth of July decorations from friends and family or buy antique decorations for a truly vintage look. Use red-and-white-checkered tablecloths on dining tables, as applicable, and top them off with blue centerpieces and a basket of apples. Sprinkle in some baseball artifacts as well. Complete the look by hanging red, white and blue streamers and balloons around the hall.
World War II
Support the troops in a vintage way by decorating in the style of the World War II era. Hang Iconic posters from that time, such as those of Rosie the Riveter and Uncle Sam, around the dance hall along with American flags. A slideshow of news footage and images could play on loop or could be set to music and presented throughout the evening. Gather vintage WWII uniform pieces to have on display.
Steampunk
While it's usually related with earlier time periods, you can add a steampunk twist to your themed event. Think of classic burlesque shows and the gritty, industrial side of the 1940s. The name steampunk comes from the steam that's generated from industrial machines, such as steam-powered trains, so keep that in mind when selecting decorations. Some ideas of items to display are vintage traveling trunks, typewriters, vintage gears or old pocket watches.
Pre-40s
If you are having difficulty with decorating with a 1940s theme, move a couple decades earlier to the beginning of Big Band and create a Roaring 20s theme. Decorate with vintage flapper dresses and headpieces as well as zoot suits and costume Tommy guns. Display beverages in unlabeled vintage bottles for a Prohibition-era look. You could even combine this theme with any of the other theme ideas to highlight the full range of the Big Band era.