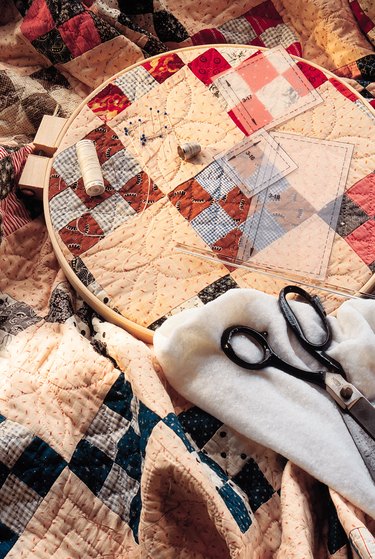 Save time and frustration by quilting on the Brother Se400. The Brother Se400 is a portable, computerized sewing and embroidering machine. It comes standard with 67 built-in sewing stitches and 70 built-in embroidery stitches but lacks built-in quilting stitches. The machine features an LCD touchscreen and computer connectivity with available online updates. A standard purchase includes eight standard presser feet with quilting presser feet available for optional purchase.
The Walking Foot
Quilting can be done on any sewing machine that sews a straight stitch. Brother Se400 owners have the capacity to create embroidered, simple straight-stitch or free-motion quilt designs. Each quilt design requires a different presser foot and machine setting. While the Brother Se400 comes equipped for embroidering, Brother recommends the walking foot for straight-stitch quilting. The walking foot allows the quilting layers to feed simultaneously through the machine and prevents puckers.
Free-Motion Foot
A darning or free-motion presser foot is needed for free-motion quilt designs. This presser foot guides the needle while you guide the quilting layers through the machine. Use the feed-dog position switch to lower the feed dogs. The feed dogs will not help guide the fabric in the lowered position. The feed dogs can be covered with a plastic plate, as this option prevents fiber particles from building up in the feed-dog area. The machine should be set for straight stitching.
Quilting Foot
Brother offers several optional quilting feet for the Se400 series. The optional quilting foot is designed as a seam guide for quilting and patchwork piecing. It allows for a 1/4-inch or 1/8-inch seam. The left side of this foot provides a guide for creating an even 1/8-inch seam. The right front edge of this foot provides a guide for creating an even 1/4-inch seam. Seam guides and seam bars are useful tools, as straight and even seams determine the overall shape of the finished quilted piece.
Needle, Fabric and Thread Combination
Proper needle size is essential to any sewing project. An improperly sized needle may cause the needle to break, the fabric to pucker or the machine to skip stitches. The Brother Se400 comes standard with a 75/11 gauge home sewing needle. Brother recommends a 90/14 to 100/16 gauge needle, and a 50 weight thread to be used when sewing heavy weight or puffy fabrics as with quilting. Thicker materials such as leather require the larger sized needle. Always use a 90/14 gauge needle when using transparent nylon thread.